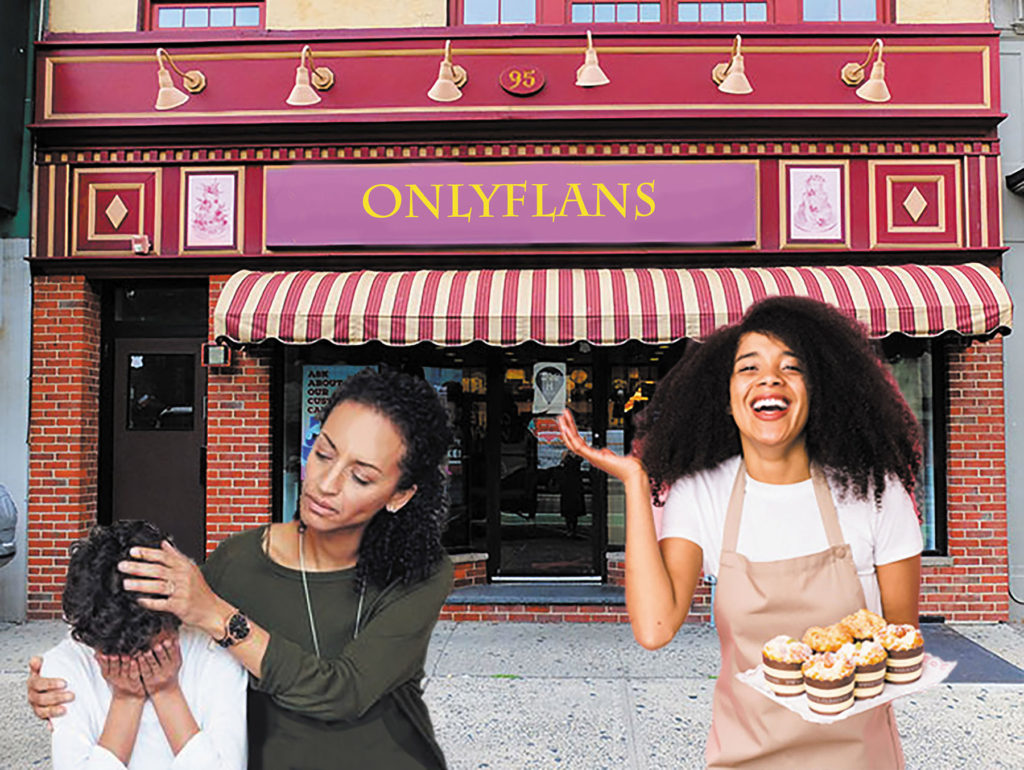 One dissenter said, "Who would go all the way to a store to get desserts? Why buy the cow when you can get the milk for free?"
Photo by Sharon Roth
Esteemed chef Charles Palmier rocked the southern California dessert world when he opened new patisserie OnlyFlans, a desserts-only chain. Palmier, who has worked as a pastry chef for the last 20 years, sought to pave the way for up-and-coming bakers to make a name for themselves in the foodie community. Local dessert-lovers and bakers alike can now sell their desserts at one of OnlyFlans's seven locations. In addition to in-person dining and delivery, dessert fanatics can sign up for an exclusive OnlyFlans subscription box. These boxes, which can be bought for 40 dollars a month, include eight desserts and can be catered to fit any dietary restrictions.
Madeleine Summers, an aspiring baker, sells cupcakes and muffins at OnlyFlans's Carlsbad location. She recently quit her day job to pursue OnlyFlans full-time after raking in an astounding 10 thousand dollars in a month. "I feel so empowered, being able to provide desserts to my local community," said Summers while fervently whipping frosting for her now-famous chocolate hazelnut cupcakes.
However, life has not been all sunshine and fondant roses for Summers. Some of her friends, who used to adore her cupcakes, have now turned their backs on her. "They think I'm a completely different person," Summers said tearfully. "I finally found something to pay the bills and my friends say they don't know who I am anymore."
Although many home bakers are turning to OnlyFlans to sell their goods and even more customers flock to OnlyFlans to satisfy their sweet tooth, others in the community are wary of the changes the chain is bringing. Some parents worry about the long-term harm OnlyFlans could have on their children. Rhonda Jones, a mother of two, recently learned that her go-to babysitter sells cookies at a nearby OnlyFlans location. "I cannot believe I ever let this kind of person near my kids," Rhonda stated. She later specified that her kids are only allowed to eat gluten-free kale chip cookies, and claimed that "they're too young to be exposed to chocolate chip." Other parents echoed Jones's statements, agreeing that they feel unsafe knowing that their neighbors might be selling baked goods at OnlyFlans.
Online communities have bashed OnlyFlans's business model. One anonymous user wrote in a forum: "I can't believe there are SIMPs out there still paying money for baked goods, my girlfriend gives them to me for free." SIMP, which stands for Sucker Idolizing Mediocre Pastry, has become a common insult hurled at OnlyFlans customers.
Although OnlyFlans's popularity is a blessing for its founder Chef Palmier, its moment in the limelight may harm local bakers. Last week, celebrity chef Paul Oceanside started selling his signature bakes at several OnlyFlans locations. He earned a record-breaking $1 million in twenty-four hours, outselling every other baker. The following day he promised to bring several dozen loaves of his famous bread for customers to purchase. After accepting pre-orders for his mouth-watering British bread, he showed up the following day empty-handed. Disappointed customers flooded OnlyFlans with requests for refunds, overwhelming their customer support services. In response, OnlyFlans changed its refund and payment policies, which made business much harder for aspiring bakers hoping to prove themselves.
While OnlyFlans has generated controversy, the chain still has many supporters. Graham Garcia, a regular at OnlyFlans' Irvine location, is vocal about his support for local bakers: "I think it's so cool that people are brave enough to sell their creations at OnlyFlans. Indeed, OnlyFlans allows home bakers to make a living out of their passion like never before. OnlyFlans is the dessert chain we didn't know we 'kneaded.'"
Sharon was "born" in 1801. She inspired the Archie Comics, which later inspired the hit TV show Riverdale.