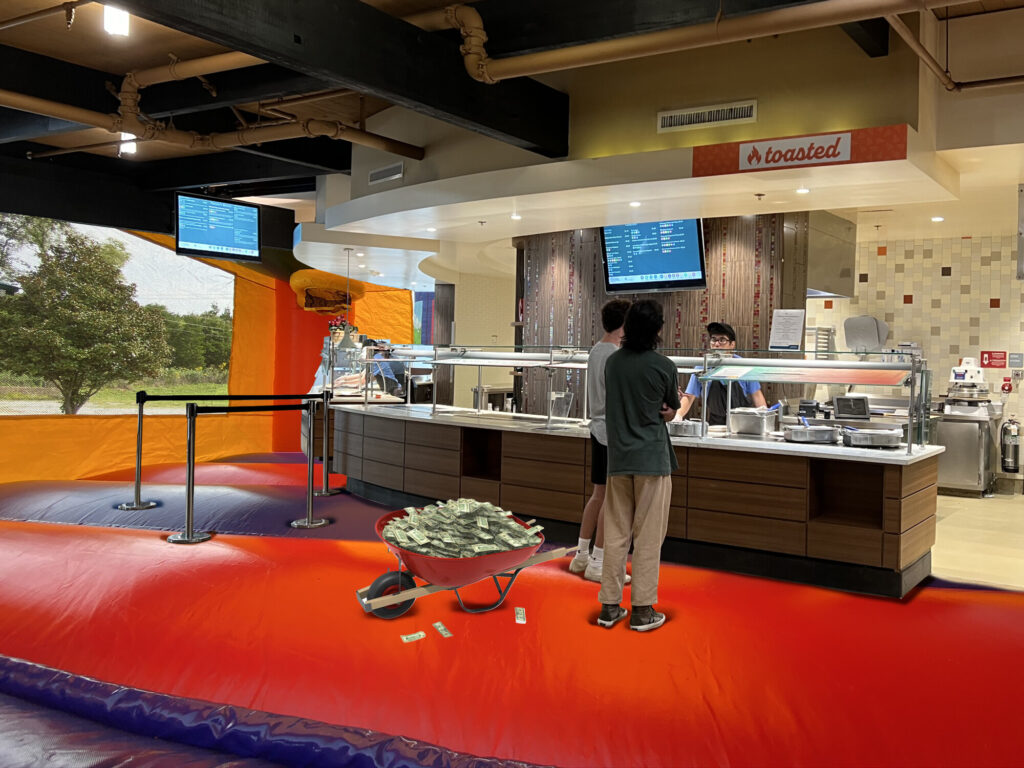 "All of these new changes make me feel like a million Dining Dollars," said one student. "Which is to say, terrible."
Photo by Julia Wong
After the release of the Federal Open Market Committee meeting minutes did little to further ameliorate inflation concerns heightened by the Bureau of Labor Statistics' recent CPI report, UC San Diego announced that the university would be switching from the quarter system to the dollar system.
"Many students have a hard time with the relatively rapid pace of the quarter system," said administrator Suprin Tendant. "Accordingly, we will have them take their classes for the entire year. This should also bring in some sorely needed revenue so that we can begin
construction of Ninth College in place of the Gilman Parking Structure." When one new student complained that "at this rate, it would take [him] a dozen years to graduate," he received a "less-than-professional" response: a GIF of the UC Board of Regents "making it rain" while floating down a lazy river in inner tubes.
"We will also be taking measures to combat grade inflation," said Economics professor Adam S. Smith. "Demand for 'A' grades remains at an all-time high, and supply simply cannot keep pace. Therefore, we will be lowering demand for A's by replacing our current three-tiered Latin Honors system with 'cum intelligentia artificialis' (with artificial intelligence), 'magnum passer magistri' (great teacher's pet), and 'sciens cum omnes' (know-it-all). Having these names on their diplomas should scare away people from acing their exams."
Eighth College students appear to be embracing inflation with open arms. First-year Steve Naiiv said, "I mean, I've got this air mattress that is totally sick. I just wish my dorm was more than a quarter finished." He then went over to the Associated Students' bouncy castle and did a backflip over a blow-up Sun God before landing in the "Engagement & Community" ball pit.
"Back in my day, you used to be able to buy actual shit for a quarter," said Bobby Boorner. "Now, I go to the vending machine and everything is $1.50. My daughter says that the laundry machines in the dorms are like four bucks for a wash and a dry. Thanks, Obama."
Housing, Dining and Hospitality has adjusted its prices upwards as well. "Thankfully, Dining Dollars are all on the app, or else it'd look like a Weimar grocery store in here!" said student employee Ted Exhaus. He continued, "Technology is so cool. Except for that Amazon Just Walk Out stuff — I miss all my other student coworkers." Meanwhile, Triton Cash "remains as irrelevant as ever" for anyone who is not an RA or doing their laundry.