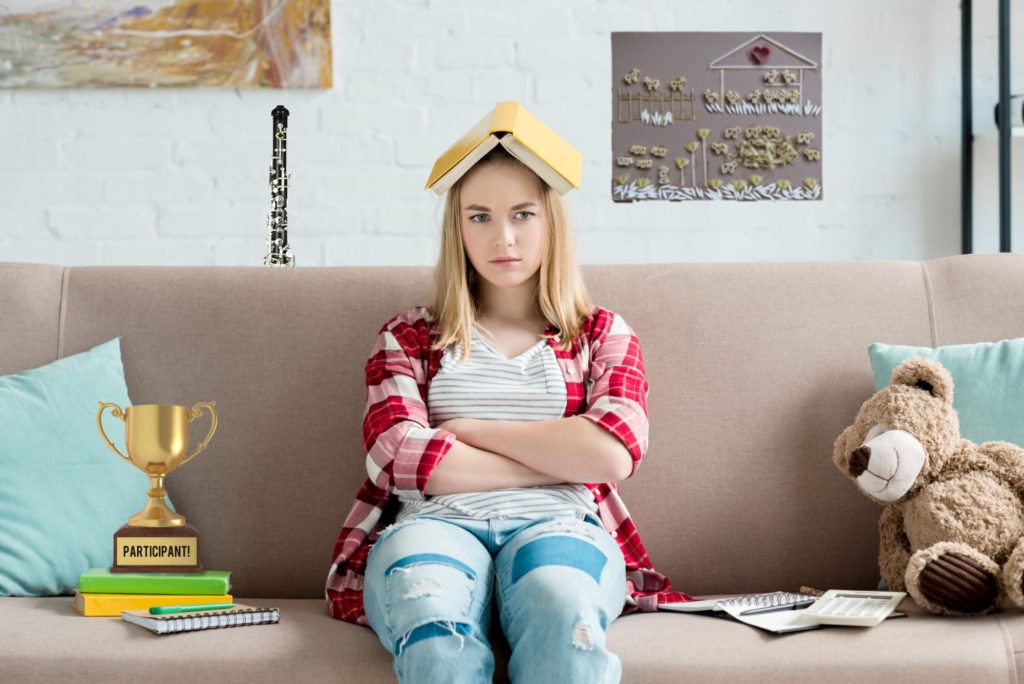 "Sometimes I feel like I peaked in preschool," lamented Livens.
Photo by Sharon Roth
In first grade, Amanda Livens was reportedly labeled a "talented and gifted" student. 12 years later, she was startled to realize that her current college professors disagree.
Liven's Calculus professor, Dr. John Foley, said, "During Zoom lectures, it doesn't even look like Amanda is listening. She spends her classes eating rice and making earrings. Does she know she can turn her camera off? Does she know plain, white rice is not healthy to eat in such high quantities?" Liven's Modern Literature professor, Dr. Jamie Garcia, has a similar opinion with Livens, claiming that "she spends most classes playing what I'm pretty sure is online Solitaire. Sometimes she forgets to mute and the whole class can hear the background music. Once it looked like she was taking notes, but when I asked to see what she had written she just held up a detailed drawing of a goose to the camera. Who doesn't have the decency to lie to their professors? It was a nice goose, though I don't see how that could help her on the final."
Livens' first grade teacher, Doreen McKay, expressed disappointment, saying: "It's a shame to hear that Amanda isn't doing well in college. She was such a pleasure to have in class. I remember how polite and kind she was to the other students. I even remember when she started playing the oboe, which is an instrument we only assign to the most promising students." Livens still plays the oboe, however she has reportedly stopped learning classical pieces and has spent the last four weeks learning the song "Take Me Home, Country Roads," by John Denver, a tune the UCSD Band Director described as "a song that should never include an oboe solo."
When asked about her dwindling academic reputation, Livens said, "School just do be throwing off my vibe. I had such high expectations put on me in elementary school, so I spent all of middle and high school with crippling anxiety that I wasn't fulfilling my true potential. Finally, in 2019, I watched the movie "Cats" in theatres and had an epiphany. I need to stop trying so hard and just enjoy life. From that day on, I've been like this. It's freeing." When Livens was asked whether or not she would start taking her classes seriously again, Livens said, "I'm really focused on trying to feed the squirrels from my apartment window and gain their allegiance. So I don't really have the energy for academics right now."
When asked about what she would do with her college degree if she did end up graduating, Livens said, "My first grade teacher Ms. McKay really inspired me. She told me to follow my dreams, and the other night I had a dream that I was a DJ … I think I'm gonna chase that."
Beans Cox is a crystal carrying, palm/tarot reading, vegan hipster who is obviously from Portland, Oregon. Her favorite type of bean is pinto.