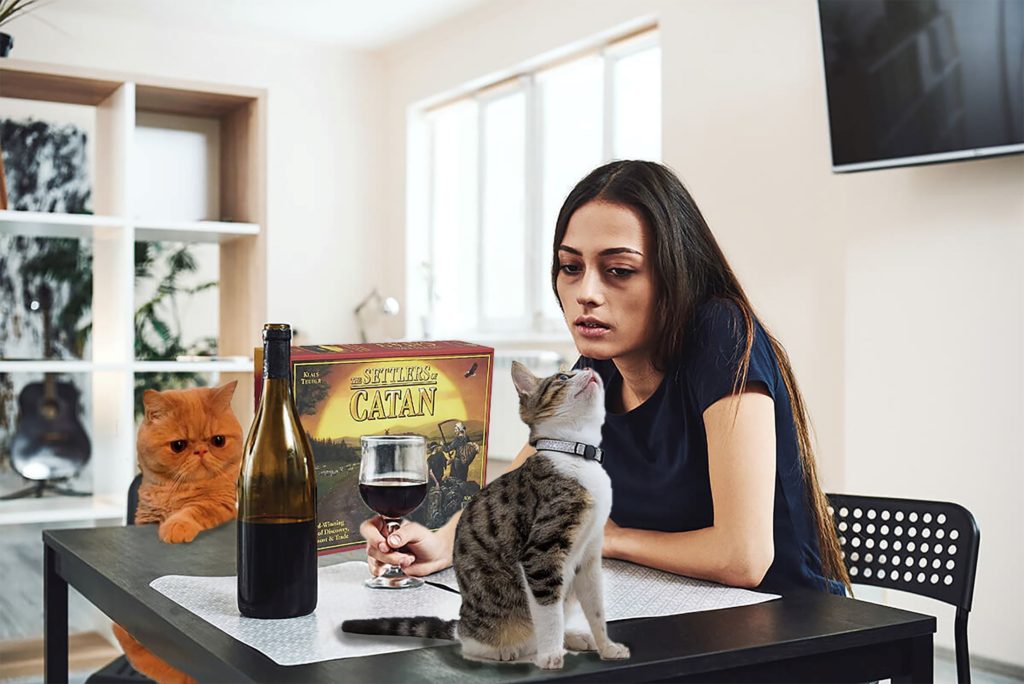 "Do we live just to die?" asked Monroe. "Meow," said her cat.
Photo by Sharon Roth
The quarantining caused by the COVID-19 pandemic has stretched on for over six months, prompting mass interest in finding activities to keep themselves busy. Between bread-baking, Tik Tok watching, and binging shows on Disney+, most are doing their best to fight the loneliness and boredom provoked by months spent at home.
One woman, however, insists that she is handling the pandemic "very well" with "absolutely no coping mechanisms whatsoever." Kate Monroe, a local student, lives alone with three cats and counts herself as one of the lucky few who isn't bothered by the isolation.
"I'm not lonely at all! I have a boyfriend and I get to see him for 30 minutes a week! Isn't that great?" Monroe listed her boyfriend's 60 hour work week and the hour drive to his apartment as "minor inconveniences." Further questioning was met only with Monroe declaring that she is "very happy" and "not at all curious about women in a romantic sense."
"Frankly, I've always considered myself an extrovert," said Monroe, "but this whole being alone all the time thing actually isn't that bad! I don't see any of my friends, ever! Instead I spend most days trying to leash-train my kitties or obsessively watching movies starring Keira Knightley. Sometimes I'll spend a few hours reading through old text messages just to remind myself of what human interaction felt like. Pretty normal if you ask me!"
Monroe offered a tour of her apartment to prove how "clawsome" it is to be "completely isolated" from everyone she loves. Her one bedroom apartment was outfitted with several cat castles, over four dozen cat toys, and even a "catio," an outdoor enclosure that Monroe built herself during a burst of unexplainable energy after realizing she had spent "12 straight days with no human interaction."
"Restless? I'm not restless at all!" Monroe proclaimed, without prompting. "Every morning I groom each cat at least three times and then we all chase the red dot together! It's a great workout."
Monroe's apartment also included a large pile of unfinished laundry, a mounting collection of dishes in the sink, and an overflowing trash bin of tear-stained tissues. "Oh, don't mind any of that," insisted Monroe. "I'm just so busy kissing my cats on their furry, little heads and rewatching Riverdale. I'll get around to cleaning my apartment and other basic human functions eventually! Maybe. Hopefully."
"Sometimes," said Monroe, "I'll even ask my babies for opinions on my next knitting project, but that's totally normal, anyone would do that! Oh, maybe I should make little outfits for them!" When asked if she was utilizing coping mechanisms to manage the loneliness wrought by the pandemic, Monroe declared that she would be having "a blast no matter what the state of the world is." She then continued, "So many people are complaining about being 'sad' and having 'nothing to do,' which is so silly! How could a person ever feel bad when there are so many different ways to play Solitaire?"
Footage was captured of Monroe as she returned to her apartment after "getting the mail," holding a receipt for another cat castle and a carrier with two more kittens. She settled onto the couch with a box of tissues and several blankets, turning on Netflix and insisting: "See? I'm fine!"
When Gage is not pondering time and relativity, she is busy spreading kindness and laughter, not only through sharing sushi with her friends, but also by making fun of the human condition and our shared experiences. In an ideal world, Gage and her cat would be battling mean people and making the world a brighter place.