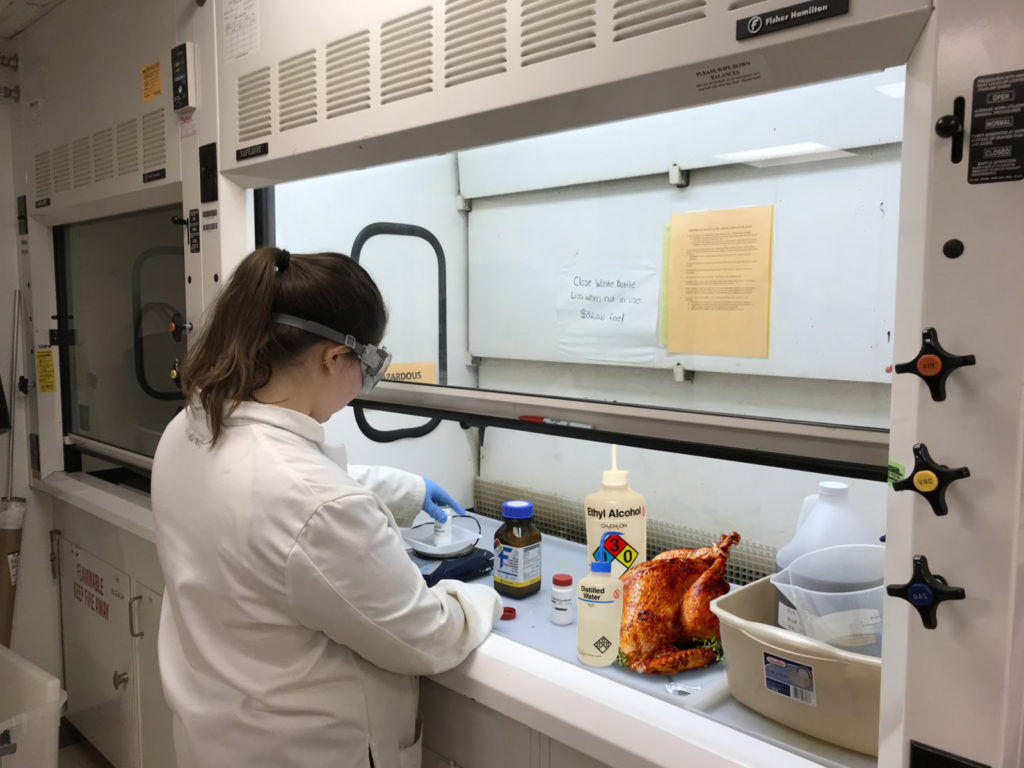 "Technically, everything we eat is made of chemicals but only some of it contains arsenic," said Cee.
Photo by Sharon Roth
During the Thanksgiving long weekend, many UCSD students elected to stay on campus. Due to the "desperate struggle", these students faced to find food amidst all the dining halls being closed during the break, entrepreneuring chemistry students decided to band together and cook a Thanksgiving feast in a lab in Urey Hall.
Diane Cee, a third-year chemistry major, explained, "I didn't fly home because who'd want to get suckered out of $400 to pay for a flight ticket just to go home and make awkward small talk with family and do chores the entire time? Also it is such a short break. I wouldn't even call it a break, it's a long weekend. So me and my roommate just said 'screw it,' and broke into the lab."
Her roommate, fellow chemistry major Todd Beau recounted, "So uh … I've been wanting to start a mac and cheese edibles business on campus because it's a combination of my favorite things. I'm kind of thinking that I should switch my major … Anyway, we decided to try making it ourselves in the lab because literally no one told us not to. My friend John — his real name's Peanutbutter, but no one calls him that — and I decided to use this yellow powder we found in the lab that looked like Kraft mac and cheese powder, and we mixed that with some of this stuff that looked like elbow pasta, and we used a bunsen burner to cook it."
"It was some Breaking Bad shit!" exclaimed Beau. "Then, we threw some of this dark green powder that kind of smelled like weed, and threw it in the pasta, and we cooked it! And then after that, we ate the pasta, and the next thing I know I woke up in the ER next to John and Erica with tubes running out of our bodies! It was such a great time, and no one held a gun to my head for me to say that!"
Another student, Peanutbutter "John" Caynein said, "The ER part sucked, but I would definitely cook in a chemistry lab again! It was a great bonding experience and a great way to de-stress from the hard classes, begging professors for research, and contemplating if chemistry majors are inherently masochistic. It was nice to unwind with fellow chem majors and have other people understand the hardships we go through every day. It was so much fun! My friend Diane later told me that I probably drank hand sanitizer, and that I shouldn't say anything else or there'd be consequences, but I don't think it was hand sanitizer! Even if I did, I was just following Trump's advice saying that all of us should drink disinfectant! We also smoked some of the leftover maybe-weed and put on some Tame Impala, and WOW everything looked like psychedelic rainbows! I was so happy! Even happier than when we started fracking at my home in LA, which caused us to end up living underground for three days!"
The story of these students was shared to the Chemistry Department, who applauded their creativity and comradery. UCSD admin has announced that they are going to continue to close the dining halls for all breaks and long weekends that happen on campus. However, they are also going to continue to leave the labs open for students to use "in whatever way they want to" and encourage students to take advantage of this opportunity.