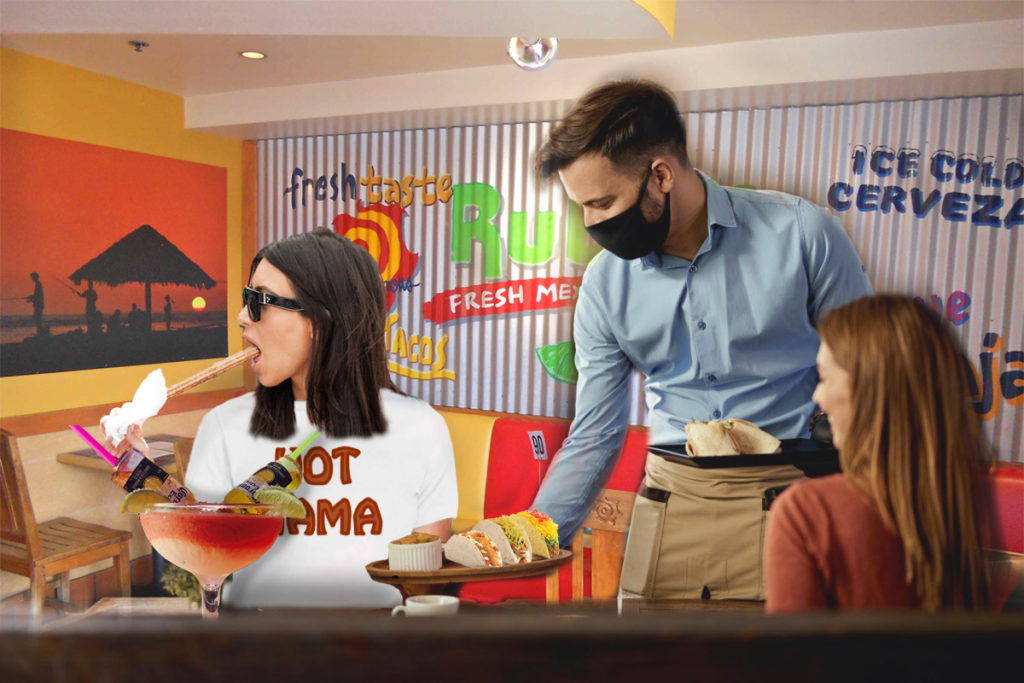 "We could go wherever you'd like: Rubio's, Del Taco, Taco Bell, Third Base," remarked Kooter.
Photo by Sharon Roth
Described by her stepson, Britchard, as having the "toned hourglass body" of his "RPG wet dreams," and the face of a "mature nymph reflecting the sensual wonders of a blissful summer morning," Kerney County resident and self-diagnosed "MILF," Loretta Kooter, has admitted to having some trouble this pandemic., but she hopes to make historic progress by bringing visibility to the plight of the pandemic MILF. "I'm not letting a little viral action interrupt my most fuckable years," declared Kooter.
Kooter acknowledged her growing attachment to being the talk of the town. "Young male attention sustains my will to live in ways my husband and five step-children could never," she said. "I may be a mom, but I know I want to live my honest truth, be the best that I can be, and wear low cut shirts while calling boys younger than me 'tiger.'" Kooter lamented that the global pandemic has hit her especially hard, and that her MILF-ing opportunities have declined significantly with restaurant restrictions.
"Like clockwork, every Sunday evening, I would eat at my town's combination Rubio's Coastal Grill and Lutheran church. Every doe-eyed Alpha Gamma Bakersfield boy within a five-mile pheromone-sniffin' radius would come to admire me in my tiny, tiny Barbie clothes, tits almost completely out, chowing down on my bursting seafood burrito like there's no tomorrow. God, I miss it." Kooter recalls a particularly "fruitful" summer she believes she took for granted. "That summer was just so hot that my blouses at the end of each night were close to see-through. And oh, I just loved the thrill of my ass fat hanging out of my shorts and merging with the booth, making it so I had to peel myself off with a loud pop. That's when I really knew I had everyone's attention."
Kerney County has since lifted some of its dining restrictions, leaving Kooter feeling "lucky, but frustrated" with the return to in-person service. "I can't see those fresh little jocks drooling when they have their masks on. It feels so impersonal. Let me see those damp chins. Let me see the glazed eyes paired with an open mouth, agape at the wonder that is me. Just let me at 'em." When asked about any health and safety concerns she might have with dining out, Kooter commented, "Listen, it's just another virus. And I've had just about every single one you can think of. Rubio's Coastal Grill toilet stalls have given me more than a family — they've given me total viral immunity."
Considering the circumstances, family members say that Kooter remains cheerfully optimistic about her prospects, and has since adapted her routine to fit the times. "Life is short, but Rubio's is forever," declared Kooter. "As a Coastal Grill baddie, I'm not too fazed by this. I merely evolve, like a sex pokémon. In fact, instead of hand sanitizer, I just use Lubriderm, to keep everything slippery. I've found it makes a lasting impression both in and out of the men's room."
After asking to leave the restaurant for engaging in the aforementioned practices, the Rubio's Coastal Grill manager noted that Kooter shrugged and wiped her nose with her ring finger, saying, "Deadly disease or not, life's a big ol' baseball game. And you best believe I've come to play and I play to come." According to an underpaid closing shift waiter, after gifting such insight, Kooter proceeded to "down an entire bottle of cheap merlot in the parking lot, with what little light she had left fading from her sunken eyes." The waiter recalled her, before driving home, chanting, "It's 5 o'clock somewhere and it's time to bone."