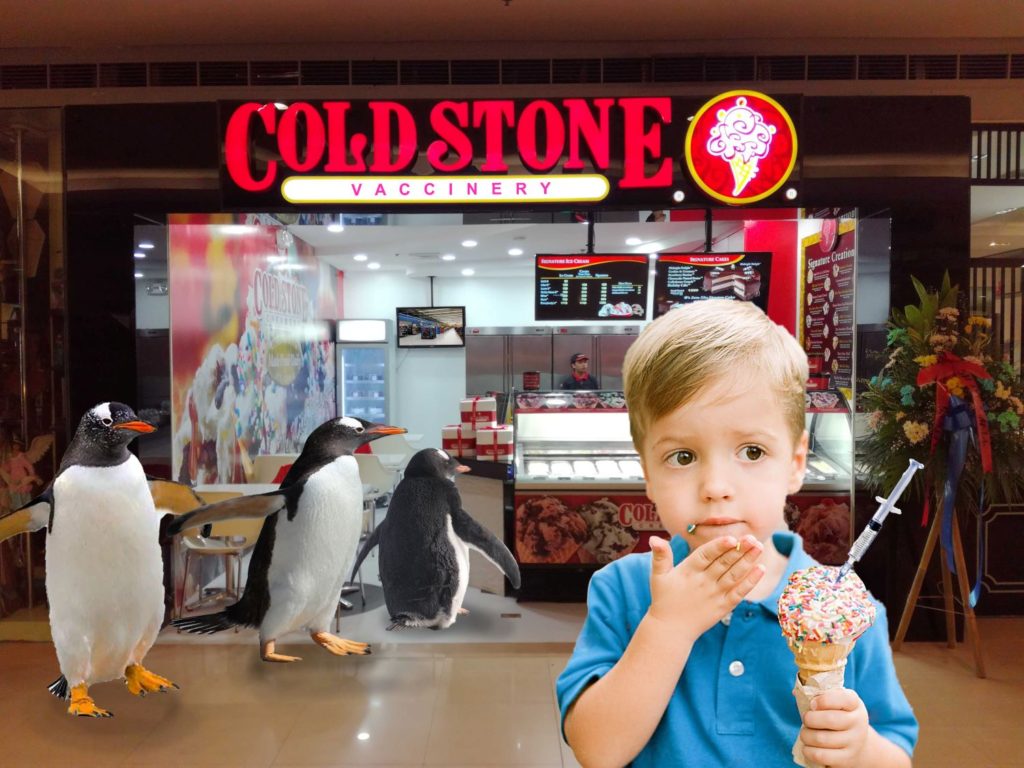 Distribution begins this Sundae.
Photo by Sharon Roth & Ben Schumin
Pfizer, one of the world's most successful pharmaceutical companies, announced that their new mRNA vaccine for COVID-19 is 90 percent effective in a recent press statement, and that they have plans for production starting late November. However, Pfizer acknowledged a few issues within their strategy, particularly with storage temperature. In a controversial decision, Pfzier has decided to store the vaccines in tubs of ice cream in order to meet their deadline.
Multiple contenders, including fellow pharmaceutical company Moderna, have been rushing to design affordable methods of transporting and administering vaccines. Pfizer CEO Vick Cene stated, "I thought it would be cool to administer the vaccine to every city's most popular penguin exhibits, to add some whimsy to what has been an ordeal, even for us rich people. But the board said that it was inconvenient … whatever that means. Also, that penguins don't have hands? I know that. I do. It made more sense in my head."
Board member Irma Gency, when asked for comment, said, "Although the penguin idea totally has the cute factor I understand we as a company are looking for, most areas don't have a Seaworld next door. I don't think Vick Cene understands how zoos work, either, because I'm pretty sure he thought the penguins could be trained to administer the vaccines. Every day, I write a new line on a two weeks notice." Among the opponents against the exhibit idea was animal activist Iggy Loo, who thought it was inappropriate to "flagrantly recreate a dystopian version of the critically acclaimed, Oscar-winning movie 'Happy Feet.'"
Shortly after their vaccine was approved by the FDA, Pfizer announced a joint campaign with Cold Stone Creamery called "Mint Chip in and Do Your Part" with hopes to assuage the worries of the public and encourage them to take the vaccine. One Pfizer executive said they were "extremely blessed" to collaborate with Cold Stone Creamery, and was later spotted, in one horrified tourist's words, "feverishly licking the display case at a Bay Area Cold Stone like it was a popsicle on a hot summer day." The campaign includes a public survey to determine which flavor the vaccine will be stored in. The top three voted flavors include "Actual Saliva," "Boot," and "COVID-20." Pfizer has not yet announced whether any of these flavors will be chosen.
Many were confused upon hearing about the campaign, particularly about the details of its release. Neither company has commented on if the vaccine will be offered as a topping at participating Cold Stone Creamery locations. Concerned Twitter user @MillenialMillie27 expressed worry, in a recent tweet asking, "Am I going to have to ruin my paleo diet?" with many ice cream emojis followed by the vomit emoji. The mass confusion has sparked the creation of the conspiracy theory group mRNAnon. The founder of the mRNAnon Facebook group, Bill Shut, believes that Coldstone and Pfizer are going to be "secretly collecting DNA from customers' sample spoons, and sending all the data collected to the Cream State." In a recent post, Shut asked, "What is Cold Stone's next flavor of the month going to be? Mint (micro) chip?" On their website, Pfizer's policy on microchipping currently reads "No guarantees we won't," with what many claim to be a coded hieroglyphic, but others state to be a winky face.