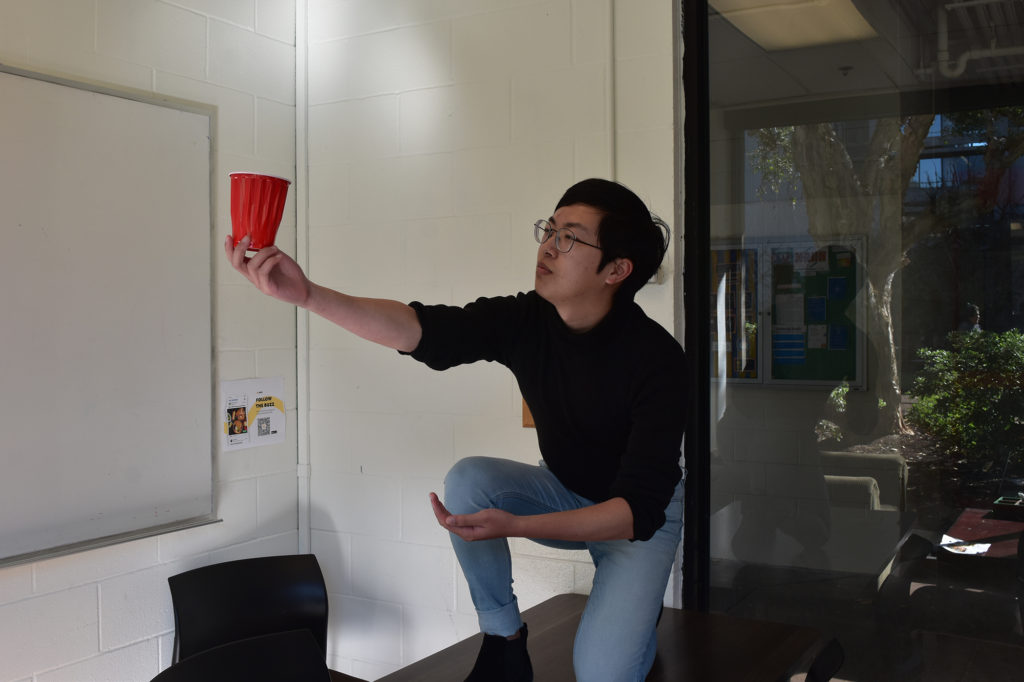 Fellow actors claim Dunne is still not over his gambling addiction from "Guys and Dolls."
Photo by Sharon Roth
Local San Diegan method actor was recently found half-awake, surrounded by bottles of beer and an overwhelming sense of performed sadness outside of a bar in the Gaslamp Quarter. The actor, later identified by police as Zayden Dunne, is a UCSD alumnus, having obtained his MFA in Acting in 2017. Since graduating, Dunne has become a local celebrity in the theatrical world, having starred in productions with UCSD's Theatre and Dance Department, the La Jolla Playhouse, San Diego Rep, and the Old Globe. Most recently, Dunne performed in Thornton Wilder's famous play "Our Town" as Simon Stimson, the town alcoholic. However, his methods of getting into character are being criticized by his castmates and peers, as he has reportedly spent all of the rehearsals and performances blackout drunk, occasionally screaming, but never apologizing.
"The day we showed up for our first rehearsal, I could kinda tell something was off," said Aelis Robinson, a castmate of Dunne. "I had heard from other people that he was really dedicated to his roles, and I thought, 'Hey, I respect that level of artistry.' Even in the world of entertainment, sometimes things can feel really clock-in, clock-out. People are already paid peanuts on non-Equity contracts. Anyways, I show up expecting a really polished, professional actor, but instead he showed up 30 minutes late, struggling to stand up and complaining about the traffic. Do I feel bad for him? Of course I do. But that's part of the beauty of it — I'll be damned if his drunken rant didn't take my breath away. It felt like I was watching the next Marlon Brando in the flesh."
"I typically infuse my shows with a level of magical realism, which is pretty 'en vogue' right now," said Katrina Oliver, part-time salesperson and director of "Our Town." "But method acting doesn't usually mesh well with my style. Part of the problem with method acting is that you embody your character every moment of every day. Now that's fine in theory, but in the real world, keeping that mindset up all the time can lead to some dissociation. I didn't have any concerns during the audition, but now I'm kind of worried about his mental health. I mean, even though it's probably not the case, you gotta wonder, 'Jeez, how much of this is the character, and how much is the person underneath it all?' But at the same time, he can pull off a VERY convincing stage drunk, which is a hard thing to do. It may be because he's actually absolutely plastered, but who are we to judge the methods of an artist?"
However, shortly after "Our Town" closed, Dunne revealed via Twitter that his entire alcoholism-fueled performance was nothing more than a ruse. "Over the past several weeks, I've dedicated myself to the role of Simon Stimson. And for all the rehearsals and performances, you've only been working with Simon Stimson, and not Zayden Dunne. However, as Zayden, I wanted to gather you all here today to say that it's been an absolute pleasure to work with you all, and that "Our Town" has been one of the most intriguing productions that I've put on recently. More importantly, however, I wanted to gather you all here because I need a ride home and a sponsor for Alcoholics Anonymous."