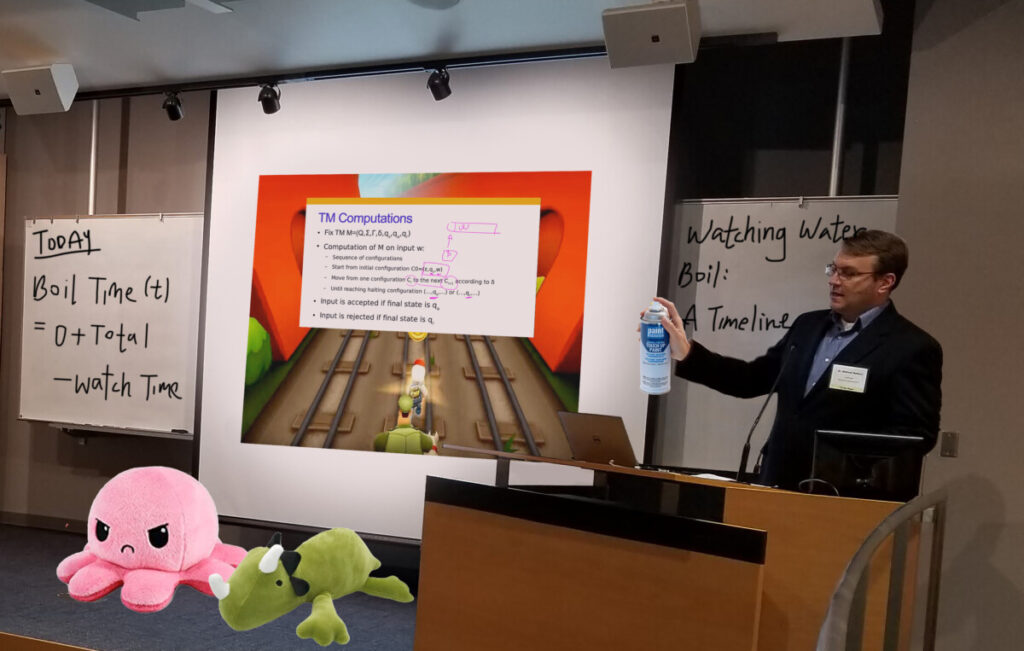 Professor Ious is now allowing students to use Subway Surfers Coins to buy power-ups on exams.
Photo by Julia Wong
During this year's winter class registration, students rushed to fill those taught by Professor Ted Ious despite his previous low registration rates and high drop rates. This sudden change was brought about when Professor Ious started to broadcast videos of the popular mobile game Subway Surfers during lectures alongside his PowerPoint slides.
"I got the idea from my grandkids," said Dr. Ious. "Whenever they stay over, they always watch these videos on, ah … what's it called again? Tic-Tac! Anyways, I found that they were paying attention to these longer videos when they had this game behind it, and I figured that my students would have the same response."
The videos to which Dr. Ious refers have taken hold of the "For You page" of many TikTok users — all with the similar format of a game of Subway Surfers playing while TikTokers read screenshots of typed stories, newspaper articles, and, in one viral video, the entire State Constitution of Minnesota. While the majority of popular videos on the app are under a minute long, these videos range from three minutes to three hours, with the longer ones broken up into 10-minute chunks.
"I will admit, when I was researching, I ended up watching these videos for hours instead of going to my own lecture! And for my students, playing this game while I talk has worked wonders. They're actually showing up and paying attention!" noted Dr. Ious.
Students are "ecstatic" at this change in lecture style. "I used to play Coolmath Games during my 'History of Watching Paint Dry' lectures, but now I can't help but pay attention!" stated student Abb Sent. Retention rates have risen in all of Dr. Ious's classes, including "Study of Buffering Videos," "Hold Music 101," and "Watching Water Boil: A Timeline."
Some people have expressed reservations about this change, however. Parents, guardians, grandparents, and others who are investing in their children's education "don't understand the reasoning" behind Dr. Ious' decision. "I'm not paying an arm and a leg for my daughter to go here when her professors are just playing video games! It's absurd!" remarked one parent, who also stated that she plans on signing the change.org petition to keep video games out of universities altogether.
Professors across the country are voicing their support for Dr. Ted Ious. "After the pandemic hit, all of us teachers were blindsided by the significant lack of attention span that incoming and returning students had. Professor Ious, I owe you one," stated a professor at UC Santa Barbara.
Education specialists speculate that by the end of this year, significantly more professors will be using this retention strategy. Some might even branch out to different background videos, including Minecraft parkour gameplay and soap cutting.