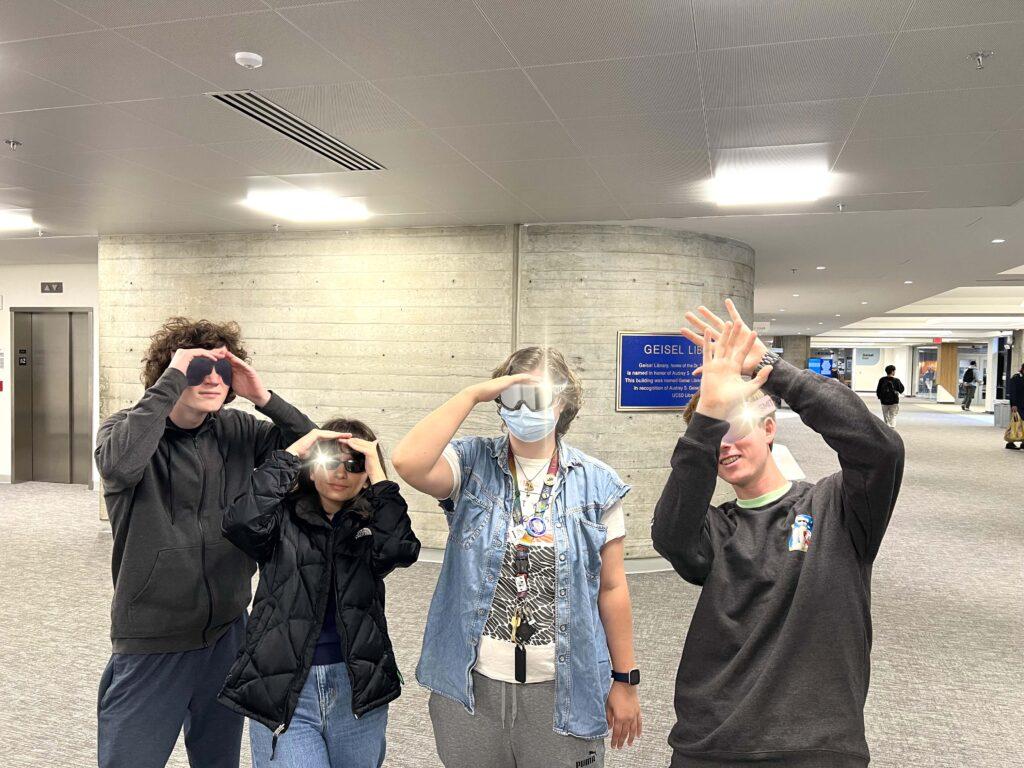 "We want students to be drawn to the library like moths to a flame," said Gibbons.
Photo by Julia Wong
Upon the recent unveiling of the new Geisel renovation, students flocked to the library to witness what many email newsletters described as "the absolute grace and majesty we so benevolently bestow upon our valued students." However, many of the students visiting were not prepared to experience the intensity of the latest redesign, leading to what some have described as a "mega blinding event."
"The current and improved lighting is roughly 1,045.83 times brighter than the previous light fixtures. Now, we can see every single grimy smudge, fingerprint, and stain on everyone's laptop screens, and judge them silently for it all day," said Wilma Gibbons, a librarian. Gibbons stated that the redesign was necessary "to raise morale," and that Geisel's "prison-like structure" had been in need of the "soft touch of a suburban mom who has had a field day at IKEA."
Students, however, were quick to protest the change, stating the design made the space "uncomfortable," "almost corporate," and "akin to a Google exec's sad little living room." Other students have stated that the redesign will be detrimental to their health and safety, notwithstanding its impact on UCSD's Niche grade.
"I walked in after a gloomy day of sobbing through my OChem lecture, when all of a sudden, bright, blinding, searing pain from the new Geisel lighting practically decimated both my eyeballs," said freshman Lenny McDermott, who has resorted to wearing an eyepatch on each eye. "Now, I have no eyes left to cry. But it's okay, I'm learning to get around by echolocation."
Senior Lily Santiago said she "didn't even try to step into the building" when she saw what awaited her beyond the doors. "It was like staring straight into the gates of Hell and locking eyes with the Devil himself. Or maybe that was just one of the librarians. Either way, it triggered a massive migraine. Not even Geisel's musty atmosphere has caused that before."
Leading the pushback from students and staff members alike was a group of students who formed a petition to re-repaint Geisel's lobby, which quickly soared past 15,000 signatures. But only after a record-breaking number of blinding incidents were reported to Student Health Services did Chancellor Khosla agree to a repainting.
"I am pleased to announce that we've reached a solid compromise. Of course, in no way will we be dimming the brilliant interior lighting that is such an important component of our new Geisel lobby," Khosla said. "Instead, we will erect a statue of the Sun God himself in every corner of the lobby, alongside a miniature What Hath God Wrought directly in the center of Geisel and visible on all floors. When students gather around these figures, it will provide them with relief from the dazzling overhead lighting and unite them around the Stuart Art Collection. School spirit is key, and this is how we will achieve that if we can no longer blind students with our shining prestige and flashy monetary donations. How else can we have a library 'like non other?'"
Geisel will be shut down for a second repainting and redesign for an undetermined amount of time, ranging from "half an hour to four years, give or take." Library Walk will also be shut down along its entire length for the same time. "We must be cautious," Khosla added. "But nothing displays our self-improvement more than shutting down another major part of the school for some additional construction. In the meantime, I encourage each and every one of you to find other ways to read, to write, to think, and to shine."