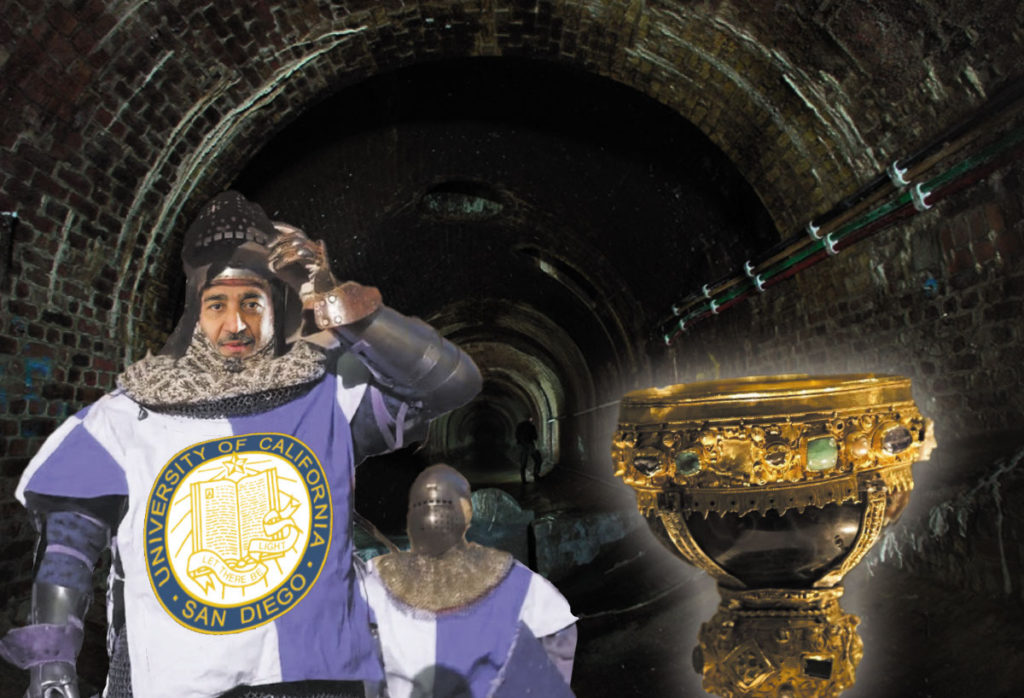 When one of the unpaid interns got their arms chopped off by an overzealous swing, Khlosa scoffed, "'Tis but a scratch!"
Photo by Jack Yang
In an email sent out to UCSD staff and students this Monday, Chancellor Pradeep Khosla reported he had obtained mythical treasure in the university's wastewater. Said treasure, identified as the Holy Grail of Arthurian legend, is being kept at Khosla's La Jolla Farms estate alongside the Ark of the Covenant, the body of the previous Chancellor, and students' tuition checks.
The email read: "We interrupt our regularly scheduled timely warning construction notice to tell you that the Holy Grail has been found in campus wastewater. If you lost a magical, woundhealing chalice in one of the restrooms between 11 a.m. on January 10 to 11 a.m. on January 13 — too bad, it's ours now. Finders keepers; go back to studying, nerd. Also, don't forget to donate to the Feed My Starving Chancellor's Fund or else you're a horrible person."
UCSD's wastewater testing system, formerly equipped with 52 state-of-the-art samplers used to locate traces of SARS CoV-2, is now equipped with 52 unpaid graduate students wading through sewage and looking for lost artifacts by hand. These changes were overseen by Return to Learn co-lead Dr. Chip Stooley, a UCSD Professor of Epidemiology and self-proclaimed wastewater enthusiast. "Chancellor Khosla told us we should focus less on detecting viral disease and more on finding shiny objects," Stooley said. "When I asked him about the rising number of COVID-19 cases on campus, he just put his finger over my lips and slipped a few Kraft Singles into my pocket."
When asked about how he found the Grail, Khosla replied, "Why should I pay those grad students? They should be paying me to muck around in my wastewater — oh, how did I find the Holy Grail? It was pretty straight forward. God appeared to me in the clouds, resplendent and full of awesome power, and said, 'Khosla, King of the Tritons, your Knights of the Chancellor's Office shall have a task to make them an example in these dark times,' and sent me on a quest for the Holy Grail. And I found it. So yeah, you could say me and God are pretty tight." Chancellor Khosla refused to comment on his alleged use of a Holy Hand Grenade in the AP&M basement.
There are a number of views on how the Holy Grail should be used. UCSD Professor of Archaeology Benjamin Gates believes that the Grail could help alleviate suffering caused by the pandemic. "Sure, the Pfizer vaccine is 95 percent effective at preventing you from getting COVID-19, but the Holy Grail is 100 percent effective at making you immortal. I don't care how long that thing was floating in excrement, I want it; I'm going to steal the Holy Grail."
Chancellor Khosla, who held the grail atop a throne of ivory, has a different opinion. "I'm gonna chug a beer out of it like a hockey player with the Stanley Cup, and then probably retire. This university business is way too much work and not enough immediate gratification, you know what I mean? I could be a badass treasure hunter, looting and pillaging ancient artifacts instead of overcharging measly student loans. Stay tuned for my new spam email list to hear about my travels abroad, and don't forget to donate to the Feed My Starving Chancellor's Fund or else you're a horrible person."