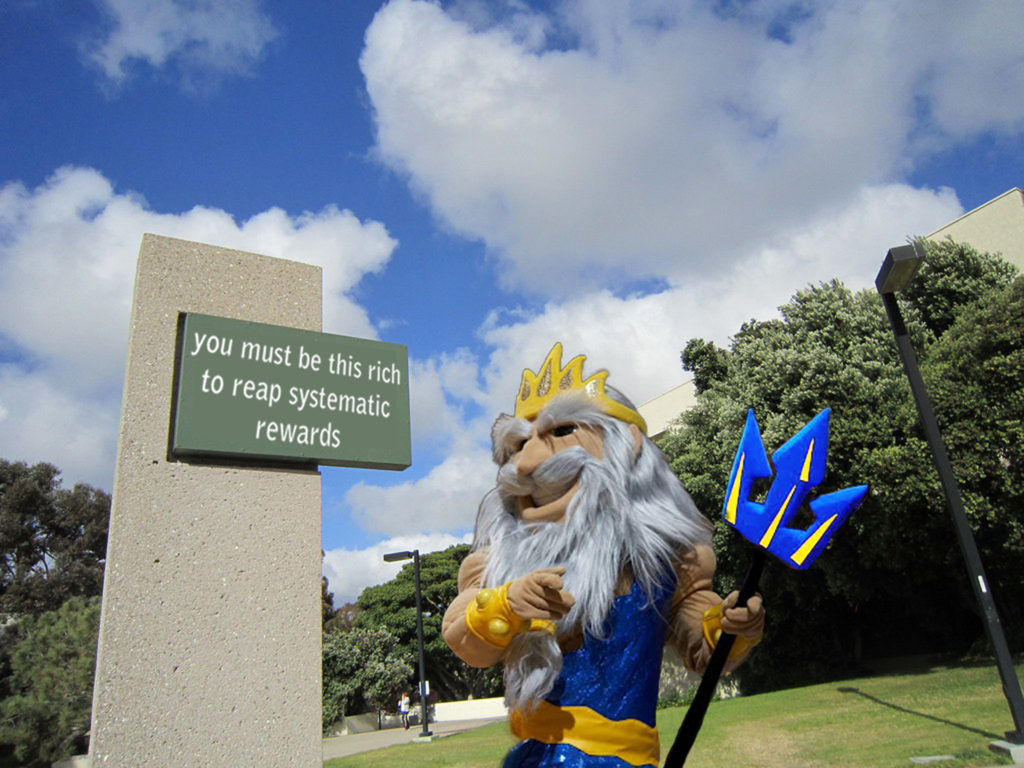 UCSD and Disney are also currently engaged in a trademark dispute over the name "King Triton."
Photo by Sharon Roth
With spring and summer break just around the corner, Disneyland recently announced that higher entrance fees will accompany increased visitation during the summer season. However, in a press statement, recently-appointed CEO Bob Chapek revealed that Disneyland's motives extended beyond anticipating an influx of tourists. Chapek revealed that the "happiest place on Earth" is engaged in "friendly competition" with the University of California system to see who can more rapidly raise their entrance fees.
Prices of Disneyland tickets will rise by $30 starting June 1. "The rumor that's been floating around is that one of the UC Regents claimed they can wring more money out of college students that we can," said Chapek. "We here at Disney appreciate some friendly competition, so for the 2020 summer season, we will raise admission prices to both Disneyland and California Adventure parks to show the Regents the power of a good ol' family megacorporation." The student discount for park tickets will also be revised to a "student surcharge," likely as a nod towards the UC Regents' primary demographic.
As a result of the price change, for the first time ever the price of a single-day Park Hopper ticket would exceed $200. Jorge Medina, an Anaheim resident, expressed support for the change by saying, "It seems sort of unfair for tourists who will only visit once in their lives, but they kind of bother me so I guess if this keeps them away, it's okay?" Conversely, Seung-wan Kang, a UCSD undergraduate student, lamented the elevated fee. "The ratio of tickets to UC admission is going down," Kang complained. "It used to be something like 178 tickets per year of admission, but with this change, I think it'll be closer to 160, especially since we can't really go outside of the days when admission is most expensive. I guess a tuition increase would fix that ratio, but that's not ideal either."
Towards the end of January, the UC Board of Regents postponed a vote regarding the implementation of a tuition increase beginning in the 2020-21 school, a proposal that, according to various sources, was vehemently opposed by students across all UC campuses. "It wouldn't be fair at all," protested Mitchell Peterson, a UCSD student. "The chancellor only needs so many tuition hikes. They're taking away our parking and starting all of these construction projects that won't be finished until everyone here graduates, but for what? They even force us to buy more dining dollars, but our tuition isn't going towards edible food. The new Canyon Vista clearly illustrates that."
Other opinions pointed out that the proposed tuition hike clashed with the UC system's supposed goal of enrolling more of California students, insisting that higher tuition would only attract more affluent international applicants. One reporter claimed to have heard Chancellor Khosla say, "We cannot allow ourselves to play second fiddle to Disneyland's profits. We must milk all the money we can out of our students. How else are we going to afford the expansions required for Khosla-Planet?"
Despite Chapek's insistence that the competition was friendly, multiple Disneyland cast members have claimed that the competition between the two entities is anything but. "When Disney+ was released, a bunch of college students jumped on that," cast member Tony Rivers explained. "I guess the UC system saw that as money they weren't getting, and figured they could compensate by increasing tuition. If you ask me, both Disneyland and the UC system are behaving like small children dragging out a meaningless argument. In the end nobody will win except the people at the very top, and they've already been winning for their whole lives, so it's not like they need much more."