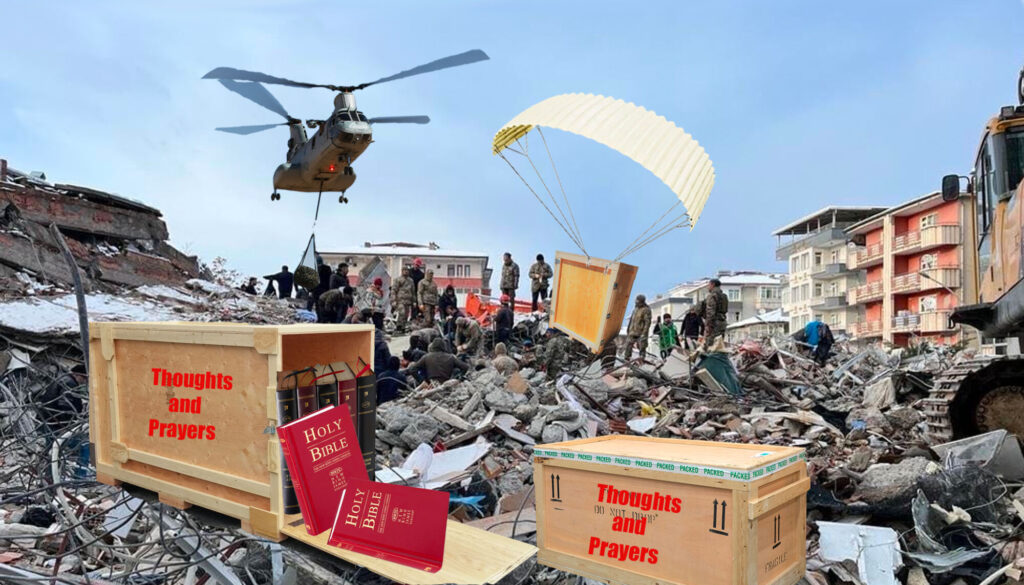 "I found the praying part easy, but the thought part is really difficult," said Owntcare. "I'm waiting for more direction from the administration."
Photo by Millie You
Following a "tumultuous" month in American politics, framed by public outcry on the silence of federal bodies on both recent mass shootings and the earthquake in Syria and Türkiye, the Biden administration held a press conference addressing these issues. In a televised speech to the nation, President Biden stated, "Look, here's the deal. We recognize the devastation that current events have wreaked both at home and abroad. As Americans, it is our responsibility in these trying times to be an example to others, because we are indisputably the best country in the world. Our society is the One True Society, a beacon to all others. Our red, white, and blue savior complex must remain strong." Biden called upon Congress for action, promising the authorization of "three million dollars worth of thoughts and prayers" in aid to Syria and Türkiye for earthquake relief efforts.
Later in the speech, Biden elaborated on the reasoning for his call to action and offered apologies. "It is an unfortunate reality that we cannot offer more, and that so much unrest characterizes the region," he commented. "This is the best we can do about it. While we can do nothing to prevent natural disasters, the political situation in the Middle East — which is completely irrelevant to the topic, but I feel compelled to comment on — has nothing to do with American colonial imperialist legacies. War in this region has nothing to do with us. But we cannot let politics — which again, I am bringing up even though it has no bearing on Syrian and Turkish people's ethical right to humanitarian aid — get in the way of crucial recovery efforts."
Many viewers at home expressed confusion at Biden's remarks. "I get that we should care about what's going on in Syria," San Diego resident Trulie D. Owntcare said. "But shouldn't we be doing something first about the mass shootings here? There's always a war or something going on over there, and we are already taking in way too many refugees — " Before Owntcare could say more, her daughter took the microphone from local reporters, and said, "Mom, shut the fuck up! You voted for Trump! You don't even care about gun violence!" before the broadcast was rerouted to weather forecasting.
Turkish American immigrant and activist Mustafa Yilmaz has been outspoken about his feelings on the speech. "We have yet to see anything from Congress, and even so, what are thoughts and prayers going to do for my family in Gaziantep? For the Syrian refugees in Türkiye who fled violence that the American government sat back and watched? People in my hometown, people all over southern Türkiye and northeast Syria, were trapped screaming under rubble. Join me in the fight to demand better."
Though Yilmaz's grassroots movement for justice has gained some traction in recent weeks, it has yielded little policy change. As of now, the House of Representatives has yet to approve the thoughts and prayers aid to the region, amidst reports of a Republican majority-led "super-duper secret" motion to vacate against Speaker Kevin McCarthy following his statement that "actually, maybe we should care," was caught on a House floor hot mic.
Kaz Nuckowski is a Copy Editor for the Muir Quarterly. They are usually found in Half Dome laughing and encouraging students to share their wit or giving their own suggestions to make everyone else laugh. Never doubt Kaz and their skills because they will surprise you, especially when the spread has a comic open and they are feeling inspired!