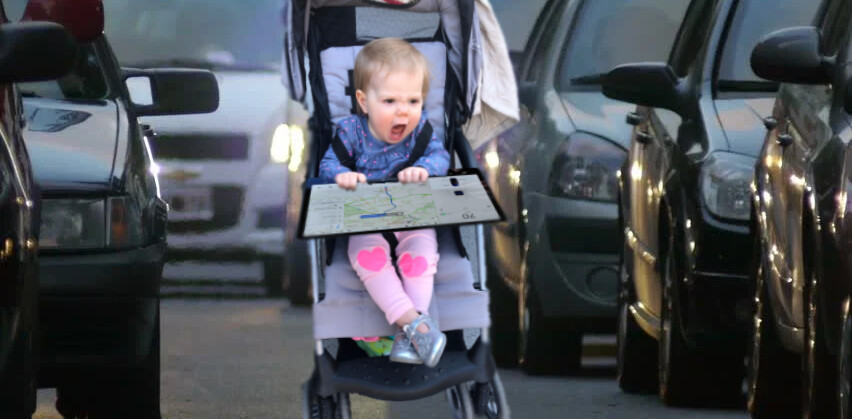 "Damn those new drivers. Always on their mobiles instead of paying attention to the road," commented one pedestrian.
Photo by Amit Roth
Just weeks after announcing that Tesla's Cybertruck will enter mass production, Elon Musk unveiled Tesla's latest innovation: a fully self-driving stroller. StrollerX, the "stroller of the future," will be "encased in panoramic glass, completely soundproof and bulletproof, supremely comfortable, and easily rechargeable at any Tesla supercharger." StrollerX will also have the same technology as Tesla's "Dog Mode," which keeps the stroller's interior climate controlled to a set temperature. Citing the StollerX's high level of protection and self-driving capabilities, the Twitter CEO claimed that he is "revolutionizing what it means to raise children."
"I have 10 kids," said Musk at the StrollerX unveiling, "so I know what it means to be a father better than anyone. I'm also the CEO of three companies, and I can honestly say that being a father is harder than my day job. I think having the experience of being a parent is extremely valuable, which is why I allowed the mothers of my children to take the reins. They need the full experience of being a mom — because spending hours in labor is definitely not enough."
StrollerX will come equipped with all-terrain tires. Musk claimed, "I strapped X Æ A-XII into StrollerX and let it rip through San Francisco's disgusting hills while I was at work, and let me tell you, X made it out alive. When I sent him out, his StrollerX was low on battery, and the stroller even drove itself to the nearest supercharging station! I had no idea it knew how to do that." Grimes unfollowed Musk on Twitter for the seventh time shortly after this information went public.
StrollerX is also set to debut with a "baby bandwagon" feature, which allows the stroller to be hitched to the back of a car moving at up to 85 miles per hour, even with a child inside. When asked about the safety of this feature, Musk assured that it had been tested extensively. "True fact, only 1% of all humans are empaths, and I am one of those people. But I had no problem having Twitter employees test drive the feature on the freeway, because they were happy to do it!" The validity of this statement was called into question after it was revealed that the test drivers were all recent layoffs required to participate in the process to receive their severance pay.
The StrollerX will be released with two color variants in addition to the baseline Tesla Silver: "Man-Mobile Blue" and "Ladies' Promenade Pink." The Man-mobile will smell of gunsmoke and pine tar, while the Ladies' Promenade will leave a trail of rose petals wherever it rides. These distinctions are designed to "abolish pronouns now and forever." Grimes took to Twitter to condemn her ex-partner's actions, saying, "I love you … but please stop this. I know this isn't your heart," before unfollowing Musk on Twitter for the eighth time.
Musk ended the StrollerX release by announcing that the Boring Company would be creating a new public transit system for children under the age of three. The first iteration of this system would be implemented in Florida and would "allow the children of Tesla employees to be transported from daycare back to their homes, eliminating needless distractions from their parents' work." Later that day, after exchanging memes on Twitter with Musk, Governor Ron DeSantis declared that all of Florida's bike lanes and sidewalks would be converted to lanes exclusively for children riding in StrollerX.