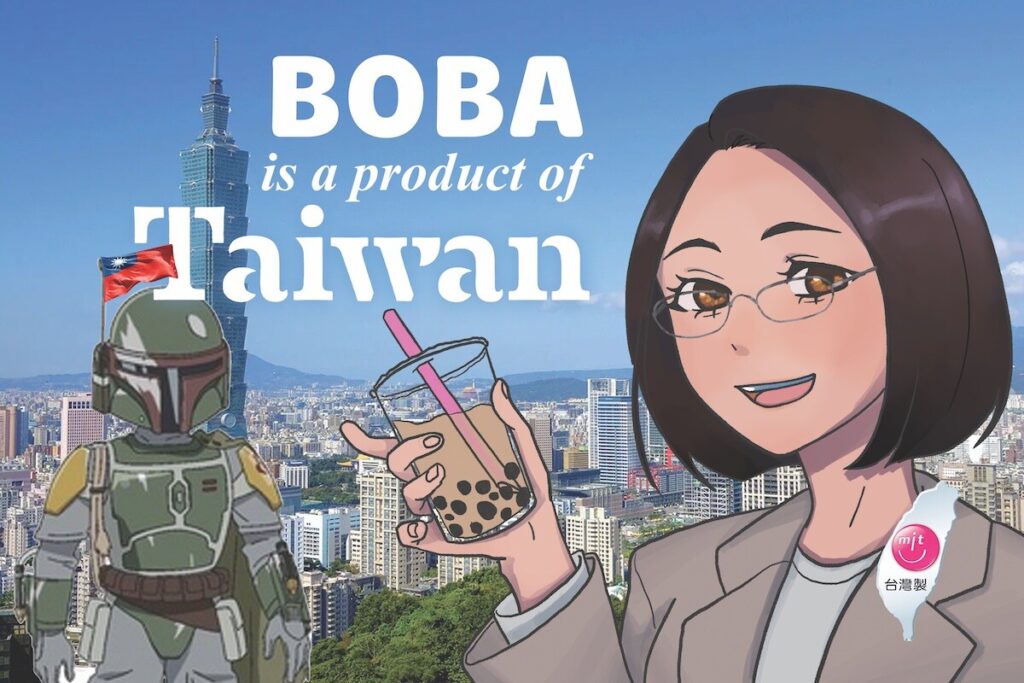 "Our company stands for 'Taiwan Says 'Murica's Cool!'" said the president of TSMC.
Photo by Julia Wong
In a statement released January 1, 2023, Taiwan announced a new campaign to spread awareness of Taiwanese culture in America. At a press conference, Taiwanese President Tsai Ing-wen released a statement on a new foreign policy, stating, "Seeing fellow East Asian countries, such as Japan and Korea, gain popularity in the United States has made the Taiwanese people feel left out. Due to the hiatus of K-pop group BTS and the upcoming release of the final season of Attack on Titan, we have determined that it is the perfect time for Taiwan to strike." Taiwan will implement several initiatives in an effort to appeal to the American public, including economic investment in T-pop, T-dramas, and T-anime.
However, Taiwan has previously made numerous attempts to debut in America. In the 1980s, the Taiwanese government sent boba tea vendors to the United States to spread awareness of Taiwan. To boost the drink's popularity, Taiwan's marketing team advertised it as the preferred beverage of "beloved" Star Wars character Boba Fett, even claiming it was named after him. In spite of the boba tea campaign, a recent poll indicated that 45% of Americans believe that boba tea originated from Japan, while another 40% believe it came from Korea. In the 2000s, Taiwan tried to debut again, opening more locations of the critically acclaimed restaurant Din Tai Fung in the United States. However, numerous surveys conducted at Din Tai Fung locations show that the majority of patrons believe the restaurant is Chinese.
Taiwan's Minister of Foreign Affairs, Jaushieh Joseph Wu, commented on Taiwan's weak presence in America, stating, "Unfortunately, semiconductors and boba drinks are not nearly as sexy as BTS' Jimin Park. To build a stronger relationship with America, Taiwan must focus on attractive cultural exports." To help rebrand Taiwan as a "cute" and "approachable" nation, Taiwan Semiconductor Manufacturing Company's new logo will be a golden retriever named "Bonjour Doggy," who is actually a little boy that enjoys dressing up as a dog. TSMC is also planning to produce an animated TV show to accompany the logo change. Gift shops with Bonjour Doggy merchandise will be added to TSMC factories in an effort to attract American tourists.
Building on the current Taiwanese influence in America, Taiwan will send pride flags to American boba shops printed with the slogan: "Taiwan is the only Asian country to legalize same-sex marriage. All your gay K-pop ships will NEVER happen. #TpopSupremecy." An official statement from Taiwan's Ministry of Foreign Affairs clarified, "The Paint Taiwan Rainbow campaign aims to tap into the LGBTQ+ market in America. Taiwan must also show that it is not like the other Asian countries. We're better."
Taiwan's campaign has received a wide variety of responses from Americans. Many voiced excitement over participating in a "fun and fresh" Asian culture as they had "grown bored" with Japanese and Korean culture. However, Taiwanese Americans have expressed mixed reactions to the campaign. Some expressed anger or said that Taiwanese culture should be "gatekept" from Americans. Others expressed joy, with one interviewee noting, "I've been waiting for Taiwan to debut in America for so long. I've always wanted positive affirmations from White Americans about my culture." In response to the news, the UCSD Taiwanese American Student Association made an Instagram post, stating: "We hope that people will stop confusing Taiwan with China as a result of the new foreign policy."