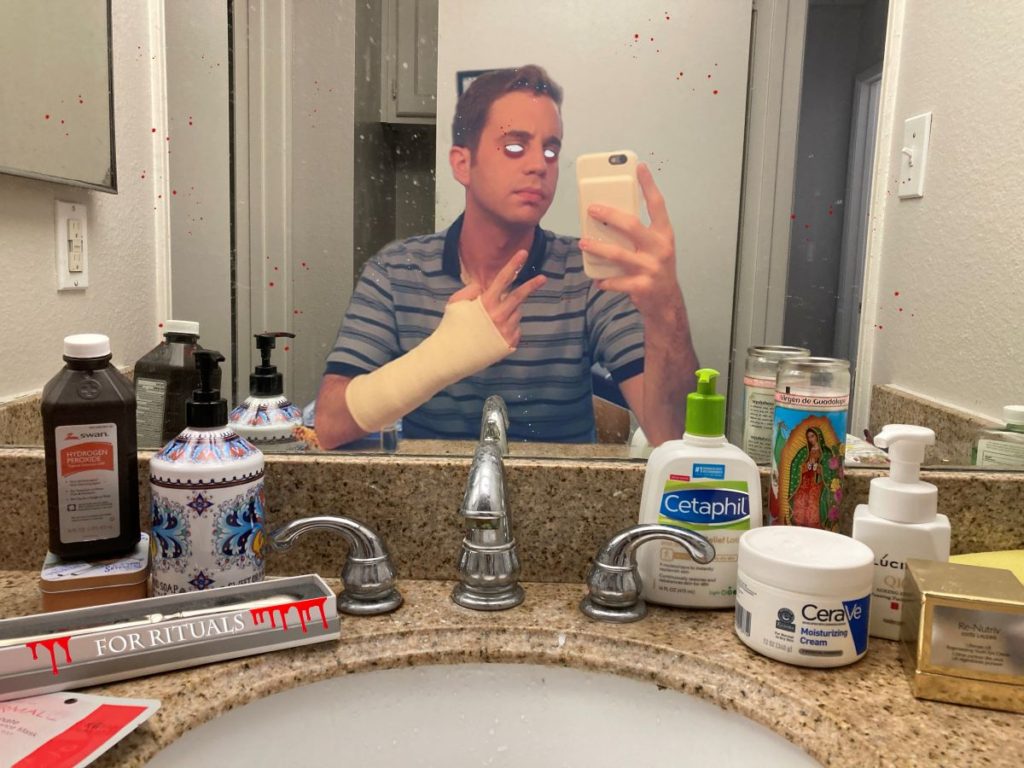 "Up next, I'm auditioning for the role of Annie," said Ben Platt.
Photo by Sharon Roth
Actor Benjamin Plattypus, more commonly known as Ben Platt, has recently been under fire for assuming the role of a character nearly half his age in the upcoming movie musical Dear Evan Hansen. One critic on Twitter complained that "Platt playing a 15-year-old in 2021 is like receiving unsolicited pictures of ur Tinder match's balls. They're both WAY too wrinkly to be doing all that."
In response to the online backlash, Platt released a video of his skincare routine, saying that he's "doing his best to look like a high-schooler again." In the video, Platt demonstrated how he rubs oil, dirt, and his family members' bottled sweat on his face daily to get back the "youthful acne look." Platt also explained that he brushes his teeth with a hammer so that his teeth look "how they used to before braces." Lastly, Platt revealed that his secret to keeping his height and weight to that of a pubescent high schooler was "simply devil worship."
In an interview with Platt's plastic surgeon Dr. Fart, who is Swedish, he described that Platt was "persistent" in what he wanted to look like. "I want you to make me look like Robert Downey Jr! Post coke! Post coke!" Ben Platt supposedly screamed. Fart explained to Platt that it would "just not be possible" to make him look like a reformed addict Downey Jr. without Platt leaping into blackface in a raunchy parody or starting a cinematic universe that would bind him to a contract for decades. After some silence, Platt said, "Fine, I'll do it myself," and dipped his hands in lambs' blood, smeared it all over his face, and rolled his eyes back into his head. Security footage of Dr. Fart's office showed Satan himself appearing and proposing to "age Platt back five years in exchange for the human sacrifice of Dr. Fart." Platt did not hesitate to make a sacrificial exchange. In his haste to reverse the aging process, Platt "dragged off my assistant, Dr. Loud Fart — no relation — in my place. The halls fell silent without him," emitted Dr. Fart.
After the security footage was released to the public, investigators revealed that this was not the first human sacrifice Platt has completed on his journey to looking younger. A hard drive seized in a FBI raid had evidence that all the winners of the Easy Cheese Whizzed Away to Tahiti Squeezestakes were actually thrown into Platt's dungeon. Because of his close relationship with the devil, Platt will likely never be caught nor punished for his actions. In fact, Platt was able to escape being convicted of Loud Fart's murder, pleading, "Your honor, I did commit these crimes, but when I was 27! I'm barely cusping 17 today!"
The legal proceedings have not helped Platt's acting career. Now that his secrets to staying young have been revealed, many copycat criminals are becoming inspired to follow in his footsteps. Benjamin Button-ed lookalikes of middle-aged and elderly ex-actors are on the rise, so much so that the Washed Up Actors Union has disbanded on account of low membership.
Platt has complained to the media that he now has "more competition" for the role of Evan Hansen, as many star-studded actors like John Travolta, aged two, have crawled back onto the stage.