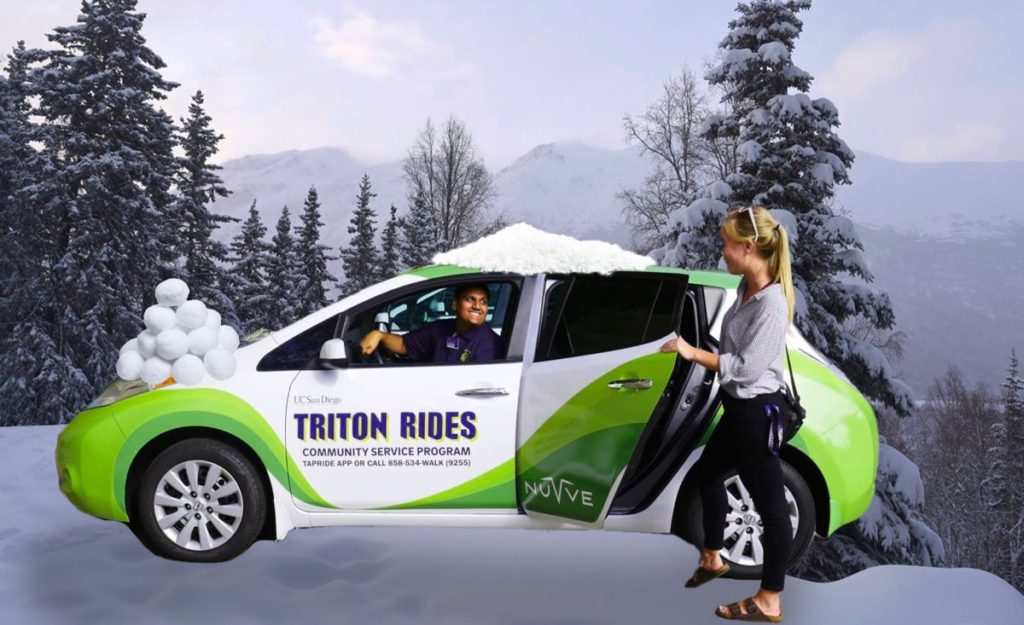 "I can see the Russian studies department from here," said one student.
Photo by Maria Dhilla
In an effort to address the lack of proper student parking on campus, UCSD Transportation Services announced plans to build a new parking structure available to students and faculty located in Juneau, Alaska.
In their most recent press release, Transportation Services representative Frank Kepler stated, "We heard many complaints from commuter students who struggled with finding a parking space on campus." The parking structure will have nine floors: one for students with "D" passes and "S" passes to share, and the remaining eight for holders of "A" and "B" passes. The parking structure will also have a bicycle parking station and areas where students can rent electric scooters and dog sleds.
"The Juneau Parking Structure is equipped with everything necessary for students to comfortably arrive on campus," said Kepler. "There will be many options for students to get to the main campus, most prominently complimentary plane tickets from Juneau to Vancouver. From there, they can take a discounted shuttle straight to Price Center Circle!"
The location of the parking structure was selected after extensive research of students' accessibility to transportation and current off-campus residency.
"After calculations based on geographical data, we have determined the average student location is somewhere off the coast of British Columbia," said Regina Parker, the data scientist who spearheaded the planning of the new parking structure. "University officials were presented with two possible locations closest to that point where they could build: Del Mar, California, or Juneau. The choice was obvious."
The decision on the more remote location, according to Kepler, was guided by "considerations of expenses and an effort to make parking more affordable to students."
"The university, unfortunately, cannot financially afford to build a parking structure in Del Mar, so we had to choose a cheaper location while providing students accommodations like plane tickets that would help them to get to the main campus."
After the announcement, Transportation Services released a poll to collect student opinions on the new plans. Most students responded negatively, with many leaving comments describing the idea as "absurd" and "ridiculous."
Kepler issued a response to the poll results: "We analyzed the students' opinions, and we concluded that students seem to be overwhelmed by the abundance of parking choices available after this addition," he said. "In response, we are considering closing the Pangea parking structure and repurposing it as dorms for the new Eighth College."
As of now, Transportation Services are moving to purchase the land in Juneau to be used for the parking structure, with talk of obtaining additional land in Svalbard to be used for a new dining hall, "Aurora Borealis."