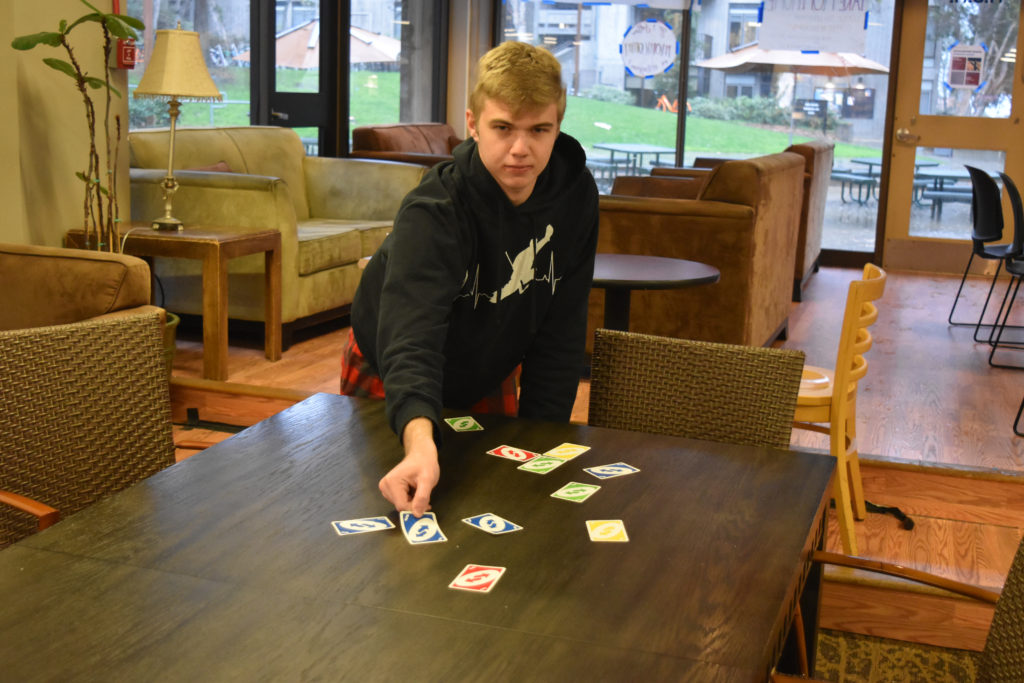 San Diego resident Arnold Zimmerman, upon being arrested for a hate crime in an East County Denny's, attempted to deflect charges by presenting the police with an Uno "Reverse" card, claiming that the situation was an example of reverse racism.

After he was fired from the Denny's and learned that the job opening was given to 17-year-old Gary Tucker, who is black, eyewitnesses claim Zimmerman entered the Denny's clearly intoxicated and placed small Confederate flags in various customers' pancakes. Police arrested Zimmerman only after he threw a salt shaker at Tucker while shouting, "I hope this action is affirmative enough for you!"

The San Diego County Sheriff's Department held a press conference today in which the officer at the scene spoke directly about the situation. La Mesa Police Officer Maria Velasquez told reporters, "The actions of this individual do not reflect the values of our community. Zimmerman not only displayed his ignorance as it relates to affirmative action, but he also demonstrated that he didn't understand the limited sphere of influence in which the Uno "Reverse" card functions. I hope that we all can learn from his actions and speak out against the incorrect use of playing cards. Last week we had someone come in with a "Get Out of Jail Free" card from Monopoly, and they tried to tell me they could use it because they were playing by their house rules. But I play by the rules of America's justice system, which doesn't use free parking, morons."

After Officer Velasquez's press conference, the manager of the La Mesa Denny's spoke with reporters to clarify Zimmerman's firing. Branch Manager Isabelle Carson said, "I fired Zimmerman because he was a rude, lazy, and unskilled worker. Hiring Gary was not an act of affirmative action. I gave him the job because he has good grades in school, he shows initiative, and he actually seemed interested in cooking food and serving customers. I look forward to having Gary on our team, and I am grateful I won't have to keep telling Zimmerman to leave his MAGA hat at home."
Zimmerman commented on his use of the Uno card saying, "I don't understand how I always end up the victim of these racist attacks. Reverse racism is rampant in this country, and smartasses like that Gary kid prove it. Why take a job away from a hardworking American like me and give it to a child? Just because I was late four out of five days of the week and I only shower when my ex-wife comes to visit doesn't mean a high schooler should be given a chance instead of me. I'm the one who needs protection here. Did you hear whites will become the minority in 2045? When we do, people won't keep insulting my musical about the unexplored romantic side of Robert E. Lee, leaving mean reviews like: 'This isn't tasteful,' or, 'Do you even know what happened in the Civil War?' or, 'It needed better lighting design.' You'll see."
Sage Cristal is the woman of your dreams. She sings, she dances, and has a WWE Championship Replica Title Belt. She is currently training to be the next American Ninja Warrior.
Dan Kaliblotzky is a fourth-year at UCSD. He aspires to find a career in soulful heavy metal Phineas and Ferb covers.