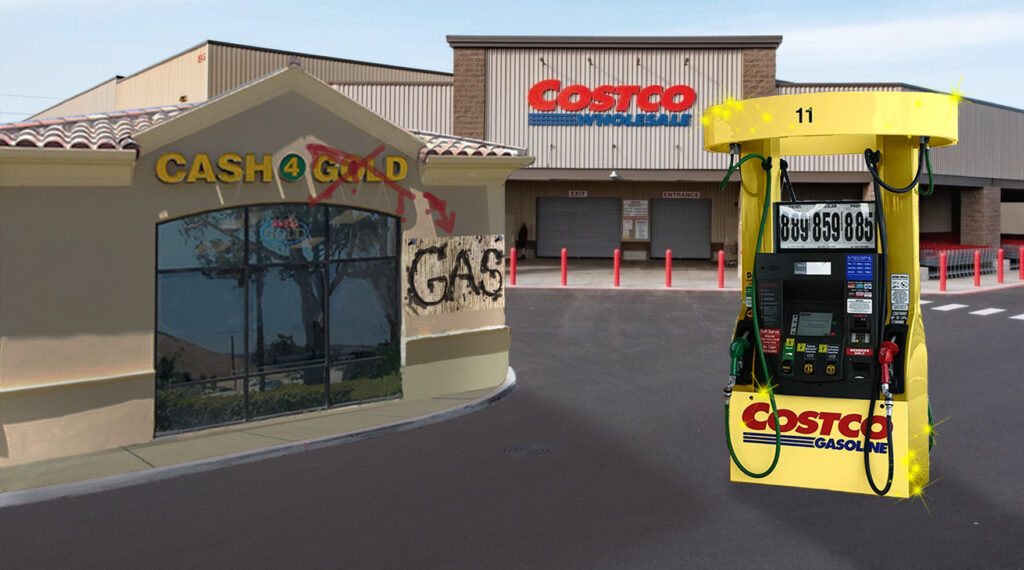 "Panning is so last season. Hand me the siphon," said one Costco member.
Photo by Millie You
This summer, Costco began selling 1-ounce pure gold bars online. However, due to high demand, the product "has been leaving the proverbial shelves faster than we can even begin to think to restock it," in the words of one Costco manager. In the face of such demand and calls from some consumers for the product in "a more liquid form," the warehouse club giant announced in September that it would unveil a new product: gilded gasoline. 
"We know you love our bargain gas prices," said Costco Chief Marketing Officer Kat Petalist at a company press conference. "Here at Costco, we wanted to offer you a chance to simultaneously cash in on gold 5% below spot price! We are proud to herald in a new gilded age for the franchise with the introduction of gilded gasoline, which will contain up to 10% liquid gold. It's the best stuff you can put in your car, for a bargain $2,699.99 9/10 per gallon at Costco Gasoline locations nationwide." 
Brand loyalists eagerly anticipated the product, forming lines at Costco gas stations as far as two weeks in advance. "It's a reasonable price because it's a Costco price, right?" said Goldie Standard, a self-described "average customer" who camped out by the pumps. "I didn't do any research but it feels safe to assume," she later added. Another customer, Ken Rodgers, was less conflicted, saying, "I have immense faith in Costco. I will fuel up without hesitation, as the gas is sold by Costco." On social media, fans of the brand went so far as to create a localized gilded gasoline Instagram filter, which replaces the user's eyes with dollar signs and adorns them with Kirkland Signature branded gold chains.
In a television interview with CNN, San Diego economist Dr. Ventura Entrepranure praised the locally-born chain for an altogether different aspect of the bargain. "If you crunch the numbers on gilded gasoline, Costco is actually undercutting the price of OPEC oil. This initiative represents a major success for market competition: truly affordable prices for daily commodities."
Gilded gasoline debuted at the pumps on October 1, but not without complications. Several Costco gas stations have reported an uptick in fuel hoarding. "I don't have any faith in the economy anymore," said one driver, Ella Armist. "So I've decided to buy gilded gasoline as insurance in case things really go sideways. Now, my used car will appreciate in value due to the amount of gold in the engine! Thank you Costco." In a similar vein, a Los Angeles hospital reported several injuries and one death in connection with the practice of covering exhaust pipes with bags to collect gold dust. Still other Costco consumers have complained on social media that gilded gasoline has clogged engines not designed to filter metallic fuel sources. "Gilded gasoline might have a shiny veneer," X user @melon.carnegie posted, "but it's not what it seems." 
However, not all Costco Gasoline customers are dissatisfied with the new product. In a review on the company website, customer Fortuna Fivundred cited Costco's "solid gold reputation" as a primary driver for their purchase, alongside the status afforded by pure gold. "I now regard my car as a symbol of both financial prudence and sheer beauty. The peace of mind that the Costco brand gives me is worth its literal weight in gold, so I will keep coming back." In response to Costco's gilded gasoline, fuel competitor Shell gave a press release announcing a new leaded gasoline product with the tagline: "It'll turn to gold in your catalytic converter!"
Kaz Nuckowski is a Copy Editor for the Muir Quarterly. They are usually found in Half Dome laughing and encouraging students to share their wit or giving their own suggestions to make everyone else laugh. Never doubt Kaz and their skills because they will surprise you, especially when the spread has a comic open and they are feeling inspired!