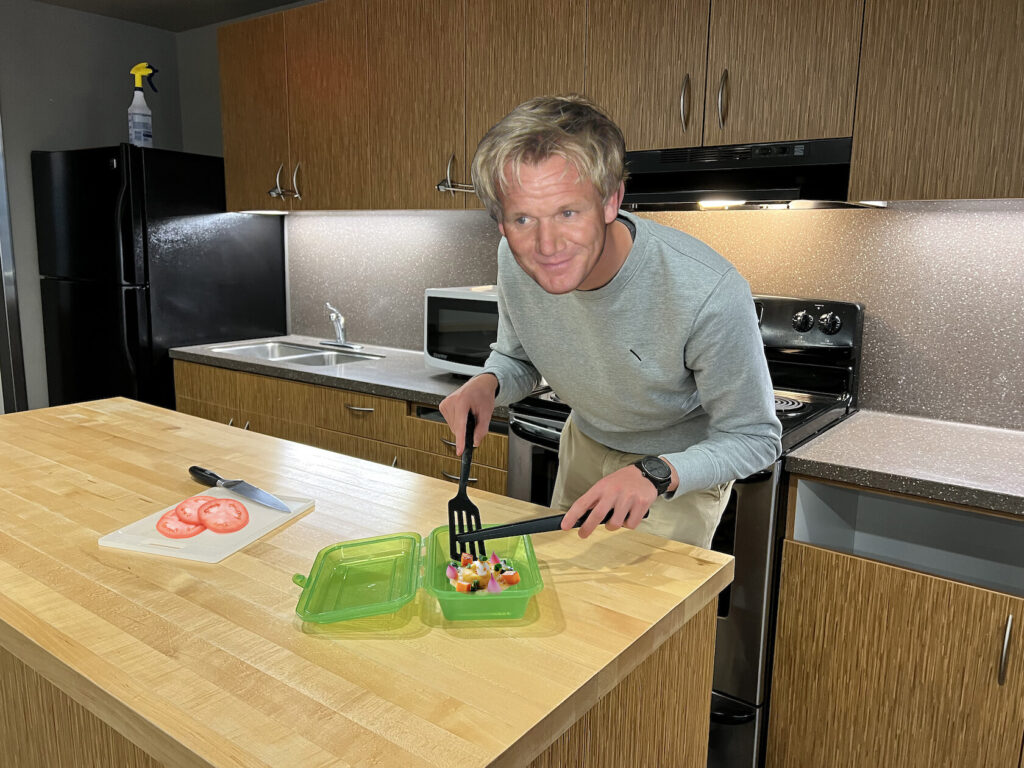 "This chicken is so undercooked, it's still crossing the road!" cried Ramsay.
Photo by Julia Wong
For years, students have rated their experience at the campus' dining halls as "subpar." To address the situation, this month HDH decided to bring in an expert — current seven-Michelin-star holder and four-Michelin-tire owner Gordon Ramsay, OBE.
Ramsay's first objective was to try the food at Café Ventanas Grill. He ordered a Triton burger and curly fries, and got a drink with his order. He went over to the Coca-Cola Freestyle machine to fill it up. "Freestyle? Expensive as hell. For $2.50, it had better spit some bomb-arse bars." Turning to a nearby student employee, he inquired, "The ice cubes. Are they fresh or frozen? Frozen? Oh, God. Well, fuck me."
Opting to dine-in, he sat at a table. Before long, one brave student employee brought his burger out to him in a pristine Triton2Go box. "Thank you, my darling," said Ramsay. He took a bite out of the burger. "The bun is dry, and the burger is sweating grease," complained Ramsay. "Shocking. Let's try some of the curly fries." He lifted a fry up and placed it in his mouth. "Bland. The texture is soggy. Such a shame."
Disappointed with his burger experience, Ramsay asked a student worker to "make [him] a simple salad," shouting that "it's not that bloody complicated!" Upon a visual examination, Ramsay said pointedly at the camera, "Hideous. It's undercooked. It's raw. And the presentation — ghastly." He took a tentative bite … then spit it into a napkin. The speakers in the dining hall played an unfavorable sound effect. "Dreadful," said Ramsay. "They call that a salad? I call that a solid piece of garbage."
It was finally time for Chef Ramsay to teach the student employees how to properly make some food. "Right. Okay, we're going to be making the most amazing, beautiful burger. Let's start by grilling some onions. First, just a touch of olive oil," he said, as he emptied half of the bottle in the pan. "Let it get really piping hot, and then just place those in like so. Go on, give it a try." When the student took over, his calm demeanor immediately "turned into a rage the likes of which the Devil himself never had seen before," and the atmosphere was likened to "if they had a kitchen in Hell."
When the dinner rush came, Ramsay and the student workers were as prepared as they could be, with Ramsay himself overseeing the kitchen's preparation of all meals. But even Ramsay was quickly overwhelmed at how fast the orders were coming in. Students came up in droves, and Ramsay directed his crew to tell them, "We're working on it!" One order of fish and chips stood out as an example of the crew's heroic collaboration. The basket was covered by a sheet of waxy paper, placed with the correct side up, and three pieces of adequately battered tilapia. Fries, hand-straightened at Ramsay's direction, were placed alongside the fish. "Where's the remoulade sauce!" cried Ramsay. An employee rushed up and placed a plastic container of it in the basket, saying, "Here chef!" "You donut!" yelled Ramsay. "That looks hideous, what is that shit!" Ramsay hand-poured the sauce over the battered fish himself, saving the dish. Ramsay continued, "Get a lemon wedge on there, you donkey." "Yes chef, sorry chef!" she answered, and began to cry. Chef Ramsay expertly swung the tray beneath her eyes, catching the teardrops to season the fries, as she placed a lemon slice next to it and the dish was sent out. "Beautiful," said Ramsay to himself, grabbing at the next ticket. "The flavor is going to be incredible."
The kitchen was in chaos after that night, but Café Ventanas now has one Michelin star and is hungry for another. And the lines have never been longer.