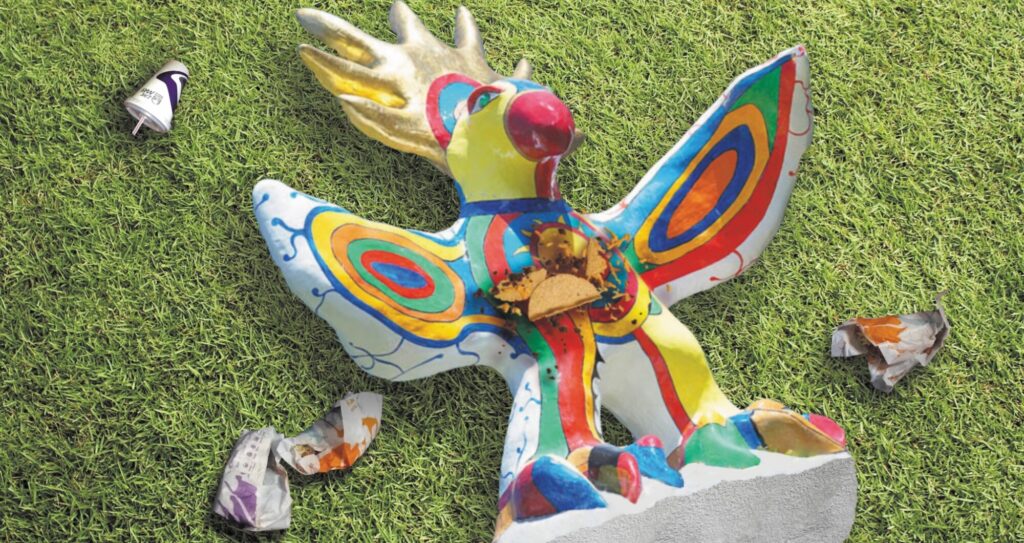 "Scientists have said we'll be on a time Crunchwrap even if we act now," explained Daniel Gould.
Photo by Amit Roth
This past Friday at noon, on the lawn between Mandeville Auditorium and Muir College, UC San Diego student Daniel Gould vandalized the iconic Sun God statue by throwing various Taco Bell food items at it as a means of "fighting climate change." This stunt follows the trend of similar protests for climate action, such as last month's defacing of Vincent van Gogh's Sunflowers painting with tomato soup in London.
Gould, a third-year Business major with a minor in Spanish, was wearing a white shirt during the protest which reportedly had "Yo Quiero Stop Climate Change" written on it in black Sharpie. Gould also gave a speech as he threw food at Sun God. "The time has come. We can wait no longer to 'taco 'bout' climate change," Gould said to the two students who stopped to listen to him. "What do you mean, it's 'nacho' business? We are all human 'beans' and we have a duty to protect our planet." Gould then proceeded to pull out a box of food items which he threw at the Sun God statue, leaving splotches of refried beans and nacho cheese on the statue's wings. He then pulled out a soda cup and yelled, "We must 'Baja Blast' away our dependency on fossil fuels!" before taking a sip from the straw, letting out an "ahhh," then throwing it at the statue.
"These demands are not 'Doritos Locos' when we know that families will buy 'chalupas' to escape the increasing floods. And worst of all, economies will crash and people will no longer be able to afford a Crunchwrap Supreme," said Gould before wiping away a tear and chucking the rest of the items.
After finishing the speech, the two students cheered. "With everyday people already facing the effects of the climate crisis, I'm glad we had a good turnout," said Gould as he was leaving the area. "Otherwise my message would have been lost and the climate would have changed even more than it already has."
"I wasn't paying attention to anything that guy was saying," said art major Brisa Tejeda, one of the students who witnessed Gould's actions. "But I am pro-trashing ugly-as-hell art pieces that our school commissioned using student's money. I hope that dude protests at What Hath God Wrought next."
"I'm just happy that I got some free food," remarked teaching assistant Cody Hanson, the other student who witnessed the event, while eating a quesarito. "And I kinda agree that the Stuart Collection sucks, but I think What Hath God Wrought would have been a more effective target. Seriously, no one likes looking at a giant pole with flashing lights unless someone's dancing on it."
Despite Tejeda and Hanson's support for Gould's actions, Chancellor Khosla sent a campus-wide email condemning Gould's behavior after the demonstration ended. "Silly liberal terrorist thinks destroying my art commission will get me to abolish the Stuart Collection. If anything, it makes me want to commission even more beautiful art pieces. Expect a What Hath God Wrought II in the next four years."
Since the email, many UCSD students have wondered whether Gould would stage another protest with a different piece of the Stuart Collection, with some students forming an organization called the Tritons Against The Stuart Art Collection, or TATSAC. As of Monday, the organization launched a Kickstarter campaign titled "Pulverize What Hath God Wrought," which has already raised over $2,000 of its $5,000 goal.