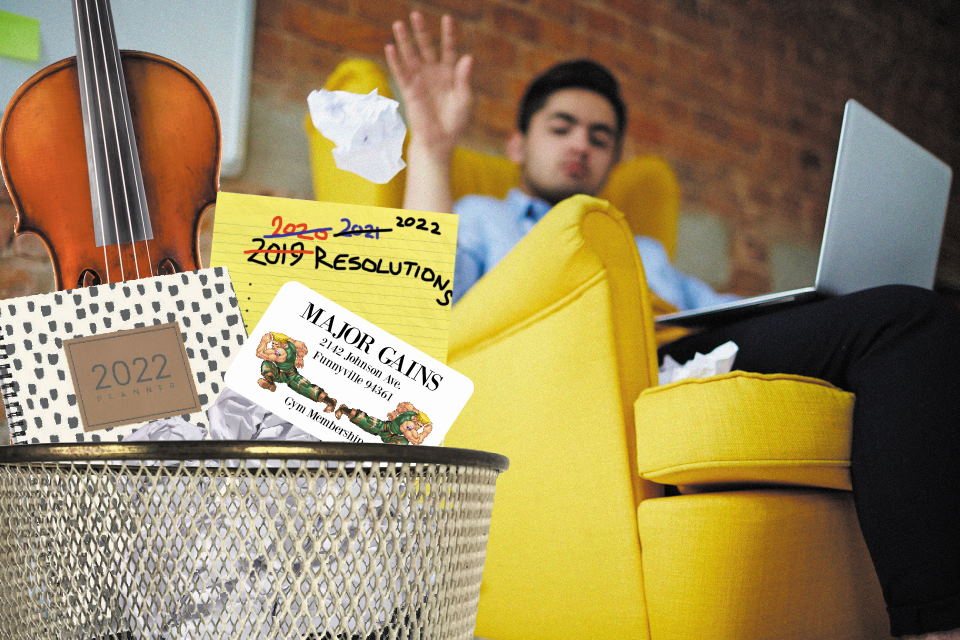 "New hour, new me," said Debilis.
Photo by Jack Yang
The National Academy of Sciences recently published a study showing that the average New Year's resolution is broken within just 25 minutes of its creation. The study, which was conducted over five years and sampled from the population of a small Alaskan town, found that many of its most ambitious participants lowered their expectations within seconds of encountering an obstacle. Some of the subjects' most common unmet goals were going to the gym, eating healthier, being nicer, and not texting their ex-partner.
One anonymous participant said, "I really tried not to text her, but the vodka and the loneliness of going to sleep by myself really hit me." They reported messaging their ex-partner, "Hey, I know I've made some mistakes but I really miss you. Please call me when you get a chance." Their ex-partner responded three weeks later with, "I'm sorry, who is this?"
Another common failure was fitness resolutions. Many participants noted their desire to become better, stronger, healthier versions of themselves. Many also noted the appeal of binge drinking their way to liver failure. One local gym owner commented, "Yeah, I love the New Year. Always brings in hundreds of lazy slobs who fork over their hard-earned money for a yearly membership and never show up afterwards. I use their money to buy 50 grams of the finest black tar."
Kindness, it seems, didn't fare too well either. Resolutions like "do not tell my neighbor to shut up" or "avoid angrily commenting on seven year-old Twitter threads" appear to have died nearly instantly. Researchers observed one Twitter user open the app just three seconds after finalizing their resolution and promptly delving into an argument over whether or not Andrew Garfield's Spiderman is canonically stronger than Tom Holland's version of the character.
Despite the poor performance of many participants, the researchers of this study were able to draw a number of conclusions. Firstly, people who set unrealistic resolutions are far more likely to fail faster. The researchers recommended that those seeking to get fit should "start by reducing the time spent on their phones from ten down to nine hours per day." Those wanting to be nicer should "consider pausing their decades-long harassment campaign against that neighbor who removed the muffler from every car he owns."
Even though most resolutions have failed, researchers recommend not giving up on the New Year's tradition entirely. "Even though in many cases we see people fail within minutes, and feel a general sense of sadness and frustration with themselves, those 25 minutes feel pretty good, don't they?" said the lead researcher. "And if you make it to 26 minutes, you did better than half of all people! Now you can smugly brag at the next Thanksgiving dinner about your progress. Good on you for improving yourself!"