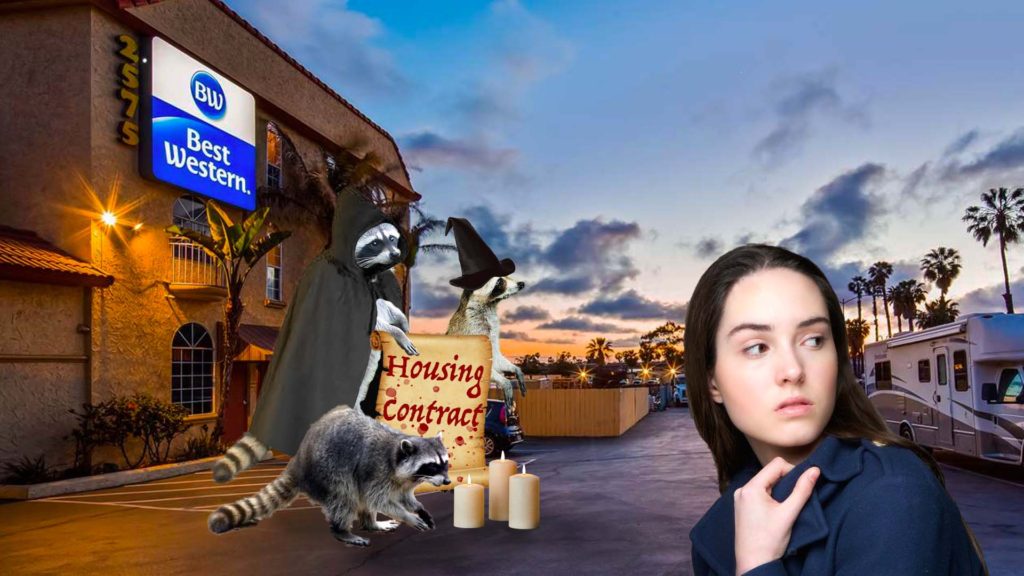 Some students claim to have witnessed a demonic possession, but it was just a case of rabies.
Photo by Maria Dhilla
With over 50,000 admitted students and a population of 100,000 raccoons, UCSD's lack of housing for its human and animal students poses great consequences to housing security. With hundreds of students commuting over an hour, and others secretly moving into the abandoned caves below Chancellor Khosla's seaside mansion, the situation has plunged a trident into the back of King Triton himself.
Since early August, a local religious cult called "The Midnight Raccoon Saloon" has influenced hundreds of students to turn to its self-proclaimed "rabid philosophy" and "rodent worship," with the promise of total bliss, balanced chakras, and 25% off parking at a Best Western located in an undisclosed location around Regents Pizzeria. The remaining 3,000 homeless students have been urged by the university to take an urban planning-related seminar in order to better understand their unfortunate situation.
Hugh Jierko, a junior Biomedical student with a dream of "one day running a high-tech animal euthanasia center," said the organization reached out to him over the job recruitment website Handshake with an offer he couldn't refuse. "Listen man, If I'm going to put animals down for a living one day, the least I can do is learn to get down with animals, if you know what I mean. The Midnight Raccoon Saloon offered me a place to stay for free. All I have to do is join their tri-weekly rituals."
What do these rituals entail? Freshman TrashBaby01 from Seventh College describes life within the Saloon. TrashBaby01 has changed her name to reflect the cult's policy of compost-related titles. "The organization has been training me to act as some sort of puppet. I fear that perhaps they are looking to breed a rare human-raccoon species of animals that can extract Tik- Tok algorithmic data from the top labs in the San Diego tristate area." Still, TrashBaby01 insisted that the continental breakfast and "bites" were preferable to the many studio apartment listings advertising at over $4,000 per month.
Student orgs and UCSD 2025 Facebook groups have been blowing up with speculation of the origins of this cult. One parent, Fayre Monjerer, believes that the group is a product of a summer internship gone wrong. Monjerer, whose son has joined the Raccoon Saloon, has spoken on the topic: "The med school rat-race influenced my son to take part in a laboratory experiment that meant he would be separated from his family for 6-12 months, and I'm sure this Mason-eque hullabaloo is part of it."
The lack of secure jobs and housing is a real threat for many students who, in some extreme cases, have turned to unethical practices in order to secure employment. In a recent study by Scripps Institute of Potionography, over 69% of Biomedical third-years at UCSD said they would agree to intern with celebrity doctor Dr. Phil to clone microscopic labrador retrievers with Kanye West's DNA and create a new "breed of creed."
In lieu of recent controversy, the recent connection between a ring of La Jolla real estate agents and black market organ trade showcases the unreliability of a housing market in a college town that lacks bike lanes or bars. The university, in response to backlash, stated: "If selling your soul or organs is off-limits in your search for housing, we suggest a dating service that pairs students with wealthy residents of nearby old folks homes willing to trade acts of service for monthly allowances. Another off-campus resource is Torrey Pines Funeral Home, which has a deal on coffin rentals for up to 90 days — the only catch being sharing a room with withering corpses." Many students agree it is best to just drink the Kool-Aid, join the Raccoons, and rack up the student debt.