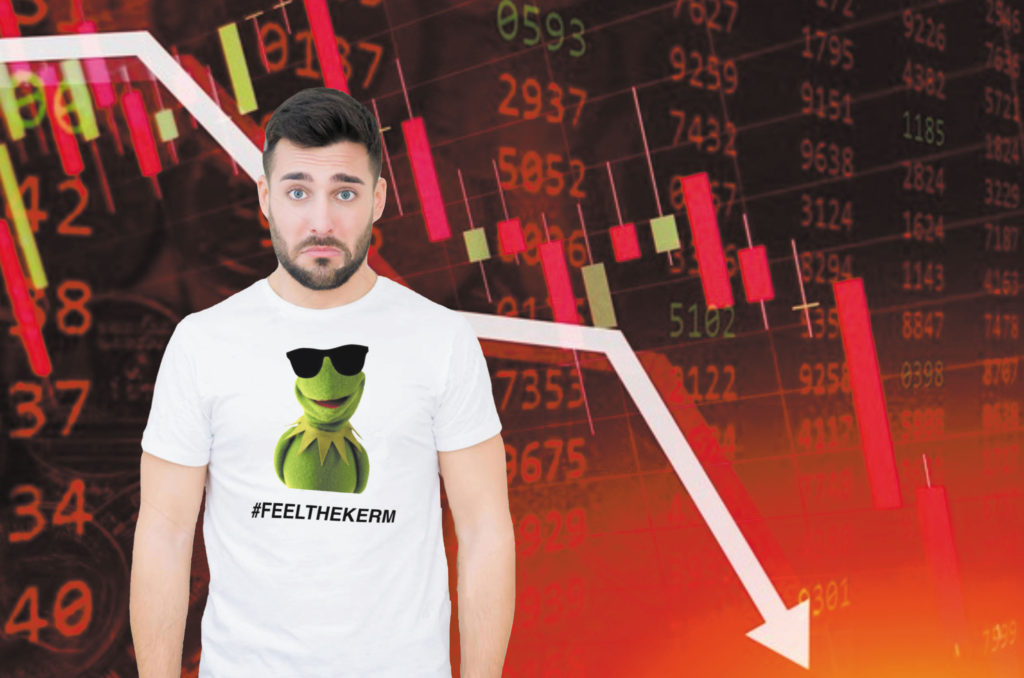 "I thought I was buying the dip," said @TheOmniEagle, "but turns out it wasn't easy being green."
Photo by Jack Yang
From shopping to entertainment, digital technology has already revolutionized almost every aspect of daily life, with no signs of slowing down. The unstoppable tide of digital progress now seeks to challenge the most recent behemoth: currency with novel concepts such as non-fungible tokens (NFTs) and new cryptocurrencies like KermitCoin.
This wave of progress can be seen in the excitement surrounding The Walt Disney Company's announcement to sell the Kermit the Frog puppet that was used in their 2011 film, The Muppets, as an NFT. For those unfamiliar with the concept, NFTs are a blockchain-backed way to create scarcity for digital goods, thus increasing their value. The choice to sell the Kermit the Frog puppet has confused many, as NFTs are designed specifically for digital goods, and scarcity is not a problem for physical items.
In response to this confusion, a Disney spokesperson reached out to comment, saying, "Due to the rising popularity of NFTs, we believe there will be many Disney fans interested in purchasing an officially licensed Disney NFT, and we here at The Walt Disney Company put the wants of the fans first and foremost." Upon further questioning, the spokesperson clarified that the purchaser of this NFT would "only hold the license of one specific digital image and would have no right to the physical puppet featured in the image." The specific image in question is a 480p picture of Kermit laying down on a table, taken from a bird's eye view. The current top bid is 10 Etherium, or $27,930.40.
While the internet is still buzzing about Disney's official NFT, a new product called KermitCoin has also been created, seemingly to capitalize on the interest generated by the NFT. The creator, who goes by the tag @TheOmniEagle on Twitter, urges followers to buy the new cryptocurrency and not to miss out on a "once in a lifetime investment." As the creator hoped, the popularity of the Disney NFT has brought attention to the newly minted cryptocurrency. Many users have started asking the creator questions on Twitter in order to clarify the specifics of KermitCoin. One user asked, "Is the amount of KermitCoins limited?" to which the creator responded, "what?" Another user asked "Is this crypto even backed by the blockchain?" and the creator responded with "you're blocked lmao." Even with many doubts surrounding its validity, KermitCoin had a surge over the weekend going from .000000001 cents to 0.00000003 cents. In light of this news, @TheOmniEagle said that KermitCoin was "officially a huge dub."
Not all are excited about the new cryptocurrency, though. Many environmental activists warn about the dangers of promoting cryptocurrencies. "Both cryptocurrencies and NFTs are extremely damaging to the environment. They encourage individuals to run very powerful computers 24/7, which use large amounts of energy, most of which is produced in power plants, which use fossil fuels," said environmental activist Mary Manners. "We understand wanting to increase the value of digital goods, but we encourage online creators to find a method that doesn't rely on the literal destruction of our planet."
Despite these environmental concerns, excitement has continued to grow for this new "investment opportunity." Interest by internet personality and self-proclaimed crypto expert Elon Musk is likely a large contributing factor. Musk recently tweeted out his delight in KermitCoin, stating that he "absolutely" believes in its value and would "stake his employee's wages" on that belief. Some commenters seem to be quite happy about Musk's tweet, with one saying that "it's great that these billionaires are looking out for the little people and are absolutely not using their massive influence to inflate the price of these coins for their own personal gain."