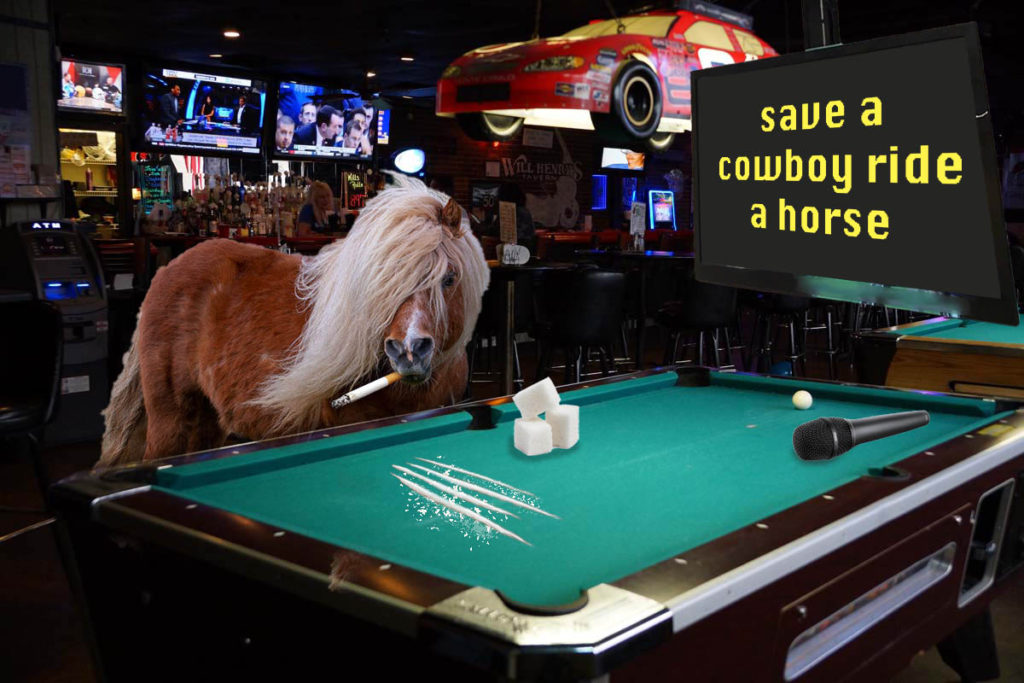 Regarding Lopez's pitchiness, spectators said, "Close is only good enough for horseshoes and hand grenades."
Photo by Sharon Roth
Celebrity pony Burt Lopez made waves on social media following his performance on James Corden's Livestock Transport Truck Karaoke. Lopez, who is famous in the equine community for his rich baritone voice, was described as "snippy" by Entertainment Tonight following his appearance on "The Late late Show with James Corden" in which Lopez shouted, "I'M NOT A FUCKING HORSE!" after Corden tried to make a joke about Lopez communicating in "horse code."
This rude reply landed Lopez in hot water. Viewers of the James Corden Show began the #HurtBurt trend on Twitter, which quickly blew up into thousands of tweets. Corden even posted a poll on his Twitter account asking fans: "Should we let Burt back on the show: Yay or Neigh?" Fans overwhelmingly voted "Neigh," leading Lopez to deactivate his Twitter account three hours later.
Lopez was subsequently harassed by paparazzi en route to his Manhattan penthouse-turned-stable after leaving the studio. Photos show Lopez partially obstructed by his security guards, where he is seen anxiously chewing hay. Sources close to Lopez claim that he was on the way to a bar to "get clobbered with the cloppers."
Alexis Davis, a self-proclaimed "diehard Burt Lopez fan," posted a multi-tweet recollection in defense of her idol the following night. Live-tweeting from The Bar(n), a rustic karaoke bar that Lopez is known to frequent, Davis tweeted that Lopez, after having "several dozen shots and two carrots," sang a tearful rendition of Katy Perry's "Dark Horse," replacing every instance of the word "horse" with "pony." After a performance that "left no dry eyes in the house," Lopez reportedly exclaimed, "I hope you can all see how much I love karaoke. That night with James was a fluke, I have never acted that way in my life, I swear."
Lopez reportedly sang several more Katy Perry songs, "his buttery voice wooing everyone in the room." Davis said in her tweet: "I've been to seven Burt Lopez concerts, but I've never been as moved as I am right now. I'll keep you all posted on how tonight goes!" True to her word, she continued sharing snippets of Lopez's evening at Bar(n) throughout the night. After snapping a selfie with several other Burt Lopez fans, Davis posted a video of the bartender approaching the famous pony and asking "Why the long face?".
Lopez spent the remaining twelve minutes of the video swearing at the bartender, other guests, and at Davis herself. He would have continued screaming, but after telling the bartender "exactly where his hooves would end up," Lopez lost his voice. He was immediately rushed to the hospital, where his brother Elmo reportedly turned down the anesthetic ketamine on Burt's behalf, as "ketamine is for horses, and my brother, Burt Lopez, is not a horse." Elmo revealed that his brother underwent vocal cord surgery and that, following hours of intensive operation, his condition was stable.
Elmo remained by Burt's bedside, where he attempted to interpret Burt's gestures to confused nurses. Burt, who has never spent a day without singing since his barn mitzvah, instructed Elmo to sing "Memory" from "Cats." Burt stopped him after realizing the song was about cats, which he did not wish to be misconstrued as, seeing as he is a pony.
Although Burt Lopez has not yet been released from the hospital, doctors confirmed that he did not permanently lose his voice. Burt Lopez's primary physician, Horace D. O'cter, told the press: "Burt will sing again. His voice is not fully gone — he's just a little hoarse."
Sharon was "born" in 1801. She inspired the Archie Comics, which later inspired the hit TV show Riverdale.