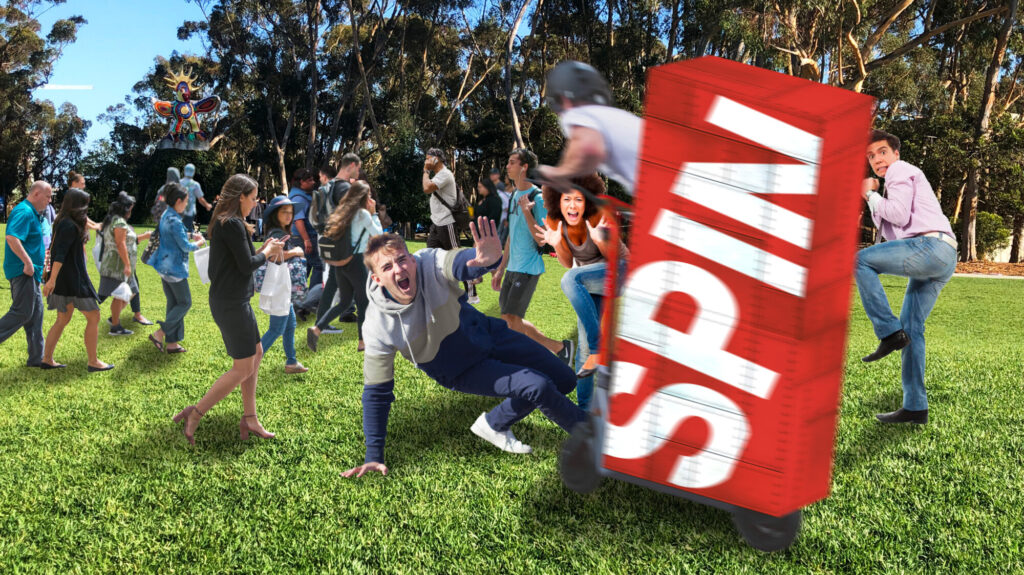 "It's walls-to-walls traffic out there," said one civil engineer.
Photo by Amit Roth
Last Wednesday, SPIN CEO Roe Tate posted on X: "SPIN is engineering the future of micromobility: shielded, private solutions to your microcommute! Our Walled E-Scooters, or Walled-Es, will revolutionize the current 5 mph experience by encasing the rider in reinforced plastic walls with a tinted windshield and rear door. There's been a lack of isolation in the last few years, and with Walled-E, we'll commute in personal luxury." Shortly after her post went viral, Elon Musk began following Tate's account.
"I've always liked walls," commented UC San Diego Chancellor Pradeep K. Khosla after getting off the phone with a representative from SPIN. "That's why there's always so much construction. Build 'em, tear 'em, stick 'em on a scooter. No longer will our student body settle for mediocrity, no longer will they ride exposed, and no longer will they be accosted by starving TAs on Library Walk. Not only do Walled-Es solve these common issues, but this deal means the executive budget can be increased. This won't affect tuition, of course — but I've had one raise, yes. What about a second raise?"
Khosla sectioned Eighth College as the testing ground for the Walled-Es, since "it's already a lawless heath." Many undergraduates praised the new micromobility device for its "VIP feel" as well as the added benefit of shielding the rider from falling construction debris and stray pedestrian bits. Graduate TA Guy Reit, however, stated, "It takes 30 minutes to ride one of these boxes from Eighth College back to Nuevo Mesa. So much for higher education, I'm fated for a cubicle either way." Soon into the testing period, a Walled-E claimed its first life, blamed on the "decreased visibility" from "driving a fucking cage." The victim was a yet-to-be-identified cockroach.
"Many of these criticisms are invalid because they are referring to our old product," explained SPIN Head of Research and Development Pierre Owett. "With the upcoming Model Epsilon, or the Walled-Ɛ, you can take a friend on the ride as well. Completely private conversations on the go!" The double-length scooter was planned to debut the following day, but design disputes caused delay. Owett disclosed, "The department discovered that if we compromise on the SPIN-trademarked two-wheel design, we could actually fit seats. These are uncharted waters, but macroscale models are surely the future of microdistance transportation. We are the brave conceivers of the engineering field of macromobility devices."
UCSD soon unveiled further plans in association with SPIN. Starting in winter quarter, the right-hand half of Library Walk, Ridge Walk, every hallway, and every ADA-approved ramp will become lanes reserved for the upcoming Walled-3s. The Walled-3 will be a two-by-eight scooter with full suspension and articulated bus technology that will drive between multiple stops on campus. These stops will be called "scooterports," and the campus-hired scooter drivers will be "criminally underpaid."
"I thank everyone for unknowingly but legally agreeing to becoming beta testers for SPIN's brave, legal, and — as of yesterday's advertisement — completely safe endeavors," communicated Khosla in an email that was universally caught by the UCSD Spam Quarantine. Khosla further commented on the recent exponential increase in scooter innovation, saying, "There has never been a faster way to get from point A to point B than first going around point A and a half, A point nine, and A point nine-nine. Campus has never been more interconnected, because God knows that you lot don't attend sports games."
For the foreseeable future, the use of Walled-3s will be confined to the roads and hallways of UCSD campus. SPIN was forced to forfeit their assets after losing a legal dispute with MTS and a class action lawsuit from grieving cockroaches everywhere.