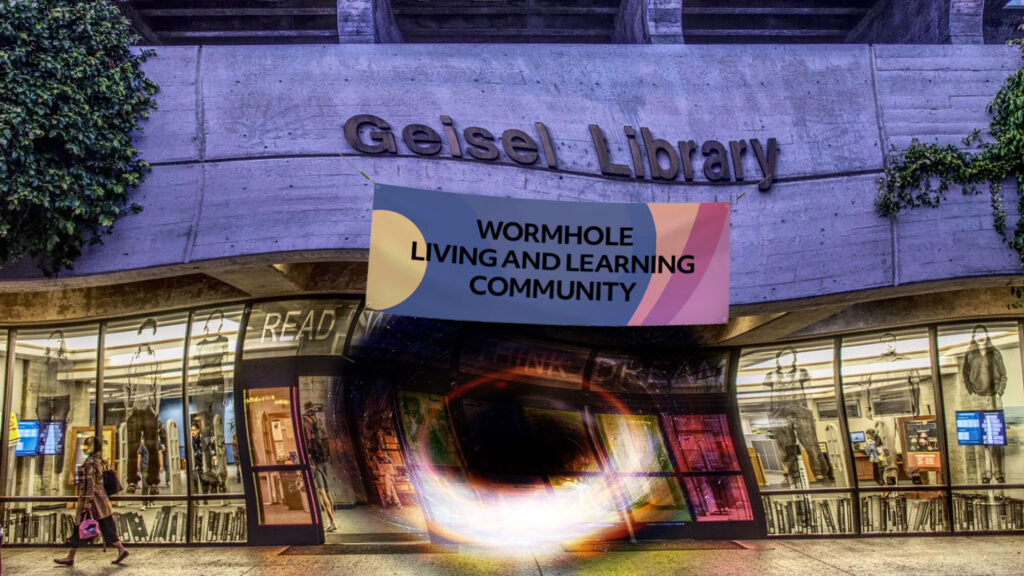 "I've been getting sucked into my studies like never before," said one second-year student.
Photo by Julia Wong
UC San Diego is "still reeling" after Thursday's "freak incident" in Geisel Library. Around 3:30 p.m., a natural disaster described as a "wormhole of sorts" by Geisel Library staff opened up in the library's fourth floor, immediately sucking up students and library shelves. As of now, an estimated 1,200 students and 5,000 study materials have been lost. "The first thing I noticed was the smell of garlic bread," recalled Rufus Gonzales, who was in the restroom moments before the incident. "I was worried, because I remember reading that smelling burning bread is a symptom of having a stroke — and I knew it wasn't actual garlic bread because UCSD has never had food that smelled that good. And then I really thought I was having a stroke when I saw everything in the room being sucked into this singularity." 
The wormhole has since shrunk to the size of a tennis ball and is hovering over the fourth floor, emitting a continuous low hum and, as Gonzales reported, smelling curiously like garlic bread. While a thorough investigation allowed regular library activity to resume, the fourth floor remains off limits.
The wormhole, contrary to expectations, has not deterred UCSD students from entering Geisel, and the library has reported activity levels on par with finals week. "I think we're all waiting to see if another wormhole will open up," second-year student Alyssa Clark shared. "I'm actually really excited," added Clark's roommate, Simone Park. "I only get so much financial aid, and if I get sucked in by a wormhole, I won't have to keep paying tuition." Others like Michael Strong are convinced the event was a hoax. "It was obviously an art installation. I don't really mind, though. It's better than the Dr. Seuss exhibit."
During a press conference addressing questions from concerned parents and students, Chancellor Khosla promised to launch a full investigation, and he is reportedly optimistic about the results. "Don't worry, everyone. We had a similar situation back in '94 and it worked out okay," he assured. "A group of students disappeared from the Warren apartments and reappeared underneath the pier one day. It only took us six months to find them! And they had no memory of their disappearance, so it wasn't traumatizing or anything."
The father of one of the missing students asked if tuition will be halted for the students sucked in by the wormhole. Chancellor Khosla declined to answer, instead pointing to the back of the room, shouting, "What's that over there!" and disappearing with a waft of garlic bread.
Housing, Dining & Hospitality has been working tirelessly to reallocate the rooms of the missing students to those still on the waitlist. "It's making the best of the situation," stated Rose Sherman, a commuter student who has now been offered housing. "Every year, housing gets more competitive and cutthroat, and now, a solution has been handed to me on a silver platter. I feel kinda bad, but at least now I don't have to fight to find parking in the morning." Andrew Nguyen, who was also offered housing, added, "I think they'd be comforted to know that their apartments are being taken care of so well."
As the investigation for the missing students and the wormhole's origins continue, a vigil will be held Saturday night on the RIMAC field. Muse is rumored to be in attendance to perform their hit song from the Twilight soundtrack, "Supermassive Black Hole."