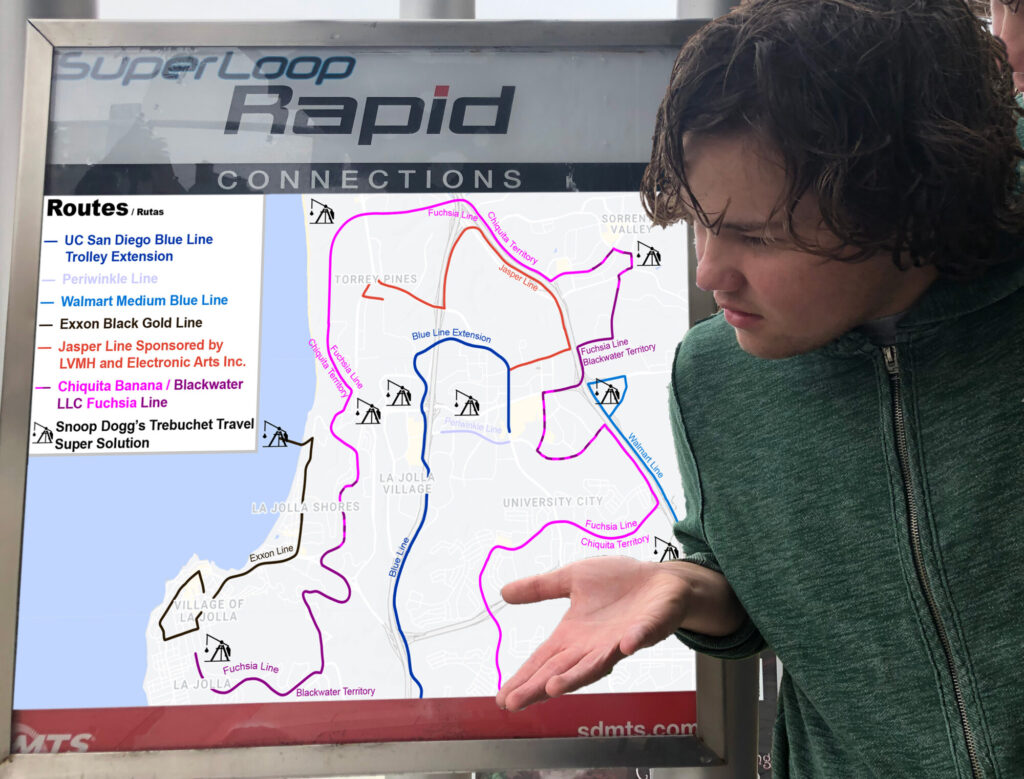 "I love the new transportation system," proclaimed one UCSD student. "Taking a trebuchet to school is teaching me so much about applied physics."
Photo by Amit Roth
Construction finished Wednesday on the San Diego Metropolitan Transit System's Periwinkle Line, the newest addition to their rapidly-expanding network. Recent growth in commuter rail has been the result of a federal mandate lifting all restrictions around the contracting of public transport expansion projects. Previously, contractors were heavily audited by municipal governments to ensure their practices were in line with federal regulation; however, the "Just Get It Done" bill has allowed any company or individual to bid on public works contracts through eBay and granted them the freedom to execute the contract in any way, so long as they "just get it done." This has resulted in a boom in the construction of public transportation solutions over the past nine months as private citizens and companies from all sectors have poured in.
As of today, the greater San Diego commuter system is mostly owned and operated by eight organizations and individuals: Walmart, Blackwater LLC, The Church of Former Day Saints, Moët Hennessy Louis Vuitton (LVMH), Snoop Dogg, Electronic Arts, ExxonMobil, and Chiquita Banana, and has additionally expanded to include multiple new and innovative modes of transport. Notably, the Walmart-operated #1a75cf Medium Blue Line has offered palanquin services since the line debuted in September, and Exxon's Black Gold Line runs exclusively gasoline-powered trains designed to travel on asphalt instead of tracks — the product of a $2 trillion research and development grant from the government. The company claims that the new auto-locomotive reduces train electricity usage by 100%, taking strain off the already stretched power grid. Other options that have been marketed as eco-friendly include Snoop Dogg's Trebuchet Travel Super Solution, which launches commuters between a network of seven-story slingshots, and the Jasper Line, which is jointly operated by LVMH and Electronic Arts and involves a network of paved roads that stretch throughout the city. Residents are encouraged to walk or run, but may also purchase passes to ride in a wide assortment of vehicles, which range from SPIN scooters to fully chauffeured and bespoke Rolls-Royces, depending on subscription tier.
However, it hasn't all been smooth sailing. Competition for contracts has caused large-scale corporate clashes and multiple territorial disputes over tracts of land. Notably, Blackwater LLC and Chiquita Banana's dispute over construction of the Fuschia Line have resulted in paramilitary conflicts, and the contested division of land has seen drastic changes as the two companies' strategies evolve. Recently, Chiquita's "Gorilla tactics," which involve launching slippery banana peels at the Blackwater advance, have seemingly earned them the upper hand, and Chiquita has already begun construction in previously-Blackwater-held Fuschia territory. Their unique mode of transport involves sliding along a greased track on a banana peel, an idea that apparently came to the lead project designer in a concussion-induced fever dream after an accident involving Heelys.
Despite these difficulties, commuter numbers remain high throughout the region. "There is literally no other choice. I either spend five hours in traffic or five minutes on a banana peel," commuter Giada Work said. In addition to diversity of travel modes, the new system has also increased celerity of commutes. "I have to transfer nine times to get to school, but it's still faster than taking the bus," said UCSD student Willow Gasquet. Another commuter remarked, "I do look forward to my daily palanquin ride. The phosphorous bombs make the palanquin bearers run faster than they'd normally go." Riders in San Diego will have even more to look forward to come May, as Tesla, whose Hyperloop project was planned to begin two years ago, has in the meantime announced the release of a different form of air-pressure powered transportation: sailboats.