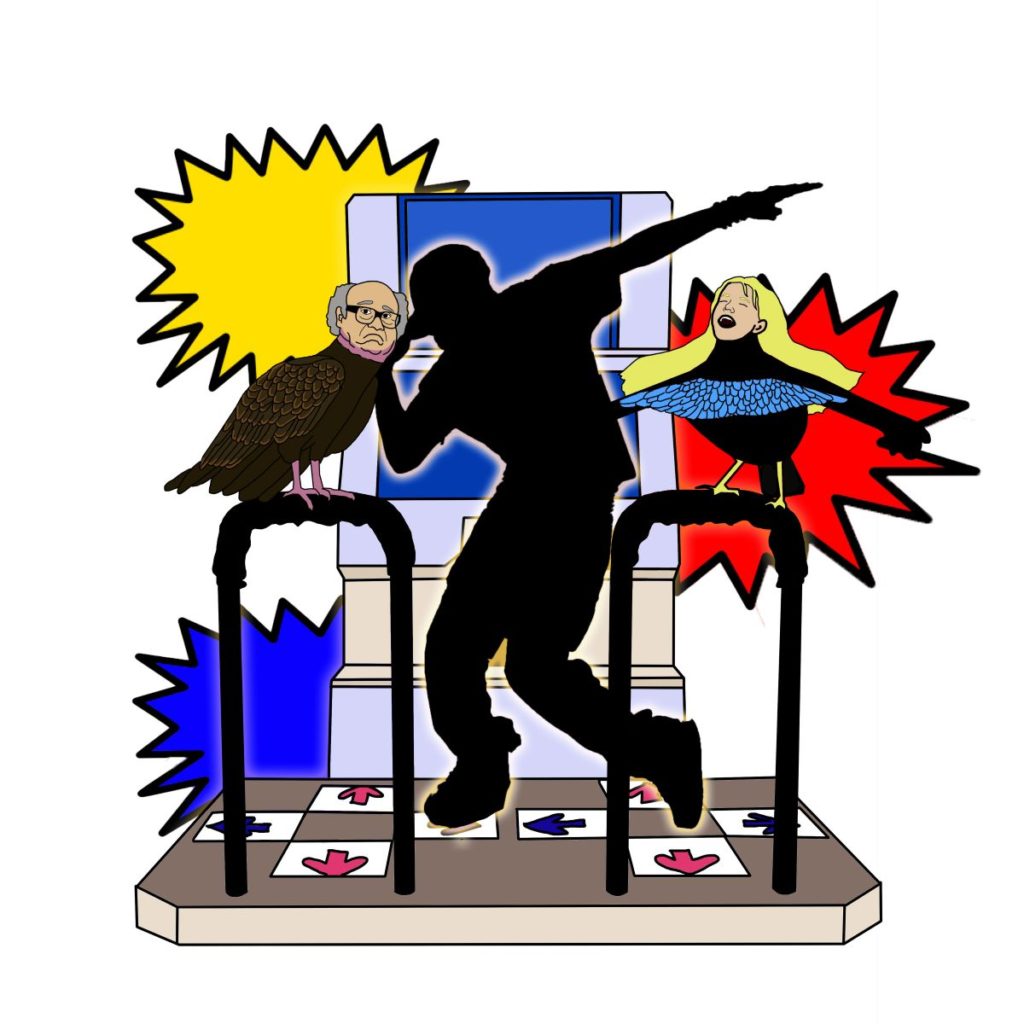 Photo by Sharon Roth
Dance your tail feathers off in the newest game by the same amalgamous neon dancing slaves — who double as video game developers — that brought you Just Dance! The innovative Mating Dance Dance Revolution is a fresh take on the dance game genre, now set in various tropical rainforests! Our producers said we needed a story, so you have to save the Amazon from the evil monkey king Banana Buzzkill, enemy of the groove. Don't let him take away the birds' right to bob their heads, ruffle their feathers, and make all the female birds swoon!
You'll play as a different bird in each level, from Sicklebillie Eilish in New Guinea, to the Sharp Tail-or-swift-ed Grouse in Indonesia. Perform "Toxic" as Birdney-of-Spearidise eats human litter in the Amazon Rainforest, or mourn the end of mating season as Lophorina Del Rey in "Summertime Sadness," and even become endangered due to habitat loss as John Albatrossvolta in "Disco Inferno." If you want a real challenge, take on the Craneiana Grande mashup! You start on a floating pile of plastic in the ocean performing "7 Rings" before moving onto land in "Break Free," and then finally performing your mating dance for a lovely female crane in "Into You." Nintendo Power readers get a free hint: press the Y button whenever Craneiana goes into head voice to pull her one long head feather into a ponytail!
YouIf you loved busting a move to "Disturbia" in Just Dance, you'll have a blast doing the chicken dance on top of a directional mat during the bridge of every song of Mating Dance Dance Revolution! We've designed an authentic avian dancing experience, inspired by two Netflix documentaries about birds that we mostly paid attention to! Shuffle across your living room floor as you boast the voluminous pomp of your crest feathers! Extend your arm to the ceiling to shape your pectoral feathers into a stunning black comet that will get all the female birds to rush to your tree stump! Shake the Nintendo Switch Joy Con to simulate the dance move that will one day really embarrass you as your older brother's cool friends walk in and see you doing it!
Mating Dance Dance Revolution is fun for the whole family, and also all your drunk friends who will actually get the most use out of it! Show off your naturally selected avian prowess before continuing your bird-themed night out by throwing up in front of children! Mating Dance Dance Revolution comes out hopefully before the birds it's based on go extinct, only on Nintendo Switch!
Dan Kaliblotzky is a fourth-year at UCSD. He aspires to find a career in soulful heavy metal Phineas and Ferb covers.