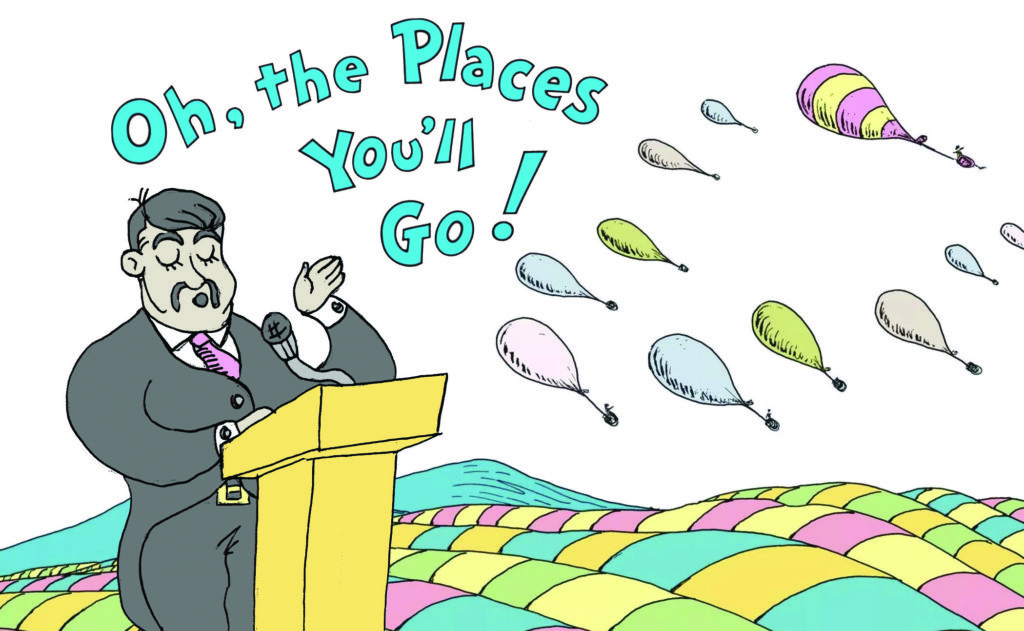 On the topic of how the graduates will succeed in life, Khosla said, "You will not make it on a boat, you will not make it on a float, you will not make it here or there, you will not make it anywhere."
Photo by Jack Yang
In response to union demands for speakers to boycott UC commencements, all UC chancellors have designated the responsibility to themselves as official commencement speech deliverers. In an official statement, they promised to "treat this opportunity with the same gravitas that a student writing a political science midterm paper demonstrates."
At first, the chancellors unanimously expressed excitement for the new policy. "It's a great honor for families to hear me speak," UC Berkeley Chancellor Carol Christ said. "Not even the students get to do that." Strikes by the American Federation of State, County, and Municipal Employees Local 3299 (AFSCME) began in response to the UC system's failure to agree to wage increases, as well as reports of women of color receiving lower starting salaries. Principled commencement speakers, excluding former Secretary of State Madeleine Albright, joined workers' demands for fair compensation by boycotting commencements.
"We're not asking for much," commented Khaled Greene, a member of AFSCME and UCSD employee. "We know we deserve more respect and fair reimbursement for everything we've seen students do in the dining halls."
Greene continued, "We wouldn't ask students to pay higher tuition. We just think that Chancellor Khosla could downsize from a mansion with an ocean view to a standard mansion, and then he'd be able to pay us more."
Many UC students were surprised to learn that their chancellors had responsibilities other than speaking at commencement. "What else do they do again?" asked Mayra Lee, a UCLA student. "I feel like the only time I see my chancellor is when they're sitting on stage at commencement. I thought they just wheeled them out of the fridge where they keep them frozen in June and then put them back for the rest of the year."
Chancellor Khosla was available to comment on the boycott from his beachside mansion during one of his three hour long breaks from writing his 500 word commencement speech.
He expressed regret that there would be no speakers from the San Diego community for the foreseeable future. "Of course I would prefer having a politician come to UCSD," he said. "It's so hard writing a different speech each year without reusing the same messages. I've found myself in a bit of a slump, and when you're in a slump you're not in for much fun. Un-slumping yourself is not easily done. How many times do you think I can quote 'Oh, the Places You'll Go' without families noticing?"
Chancellor Khosla then began his hand stretches and vocal warm-ups. He explained, "They help me stay loose when I dictate my speech for my assistant to type up. There's a surprising amount of pointing involved."
Across the state, other UC chancellors were undergoing similar struggles as they prepared to deliver their speeches.
"I think we should just have the damn students do it. They should just run the whole thing, under the guise of student leadership or whatever you want to call it," said UCLA Chancellor Gene Block, before collapsing dramatically on a velvet chaise with a hand thrown over his eyes. "We wouldn't even have to pay them. Graduating from my university is their payment."