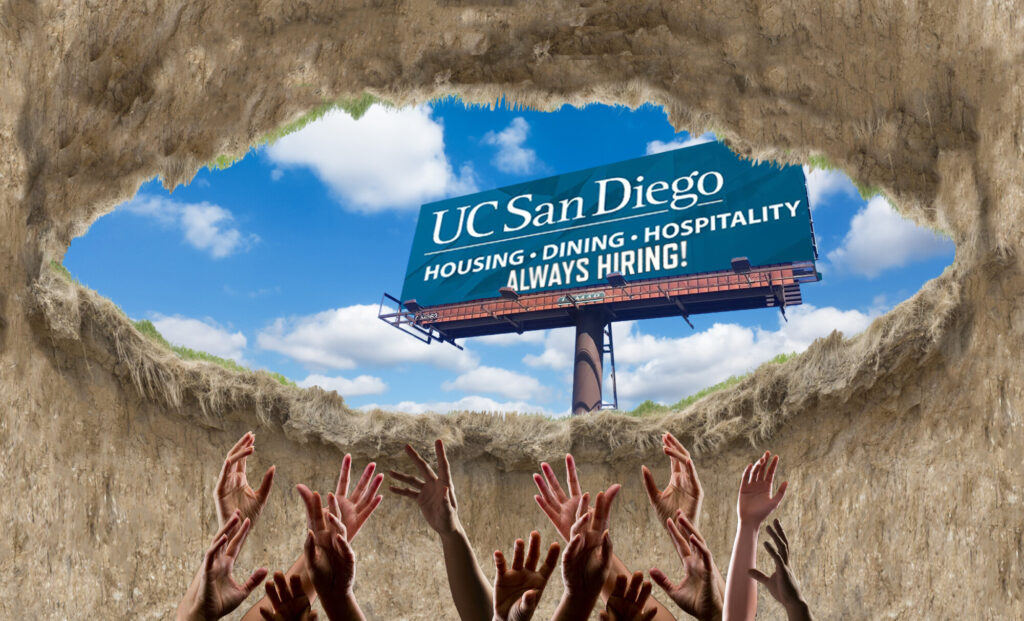 "I was born in the darkness. You were merely assigned it as a freshman," said one fourth-year student.
Photo by Amit Roth
Earlier this week, it was announced that UC San Diego Housing, Dining & Hospitality found a new solution to the lack of on-campus housing. The department revealed a "first-in-the-nation subterranean" housing system: a series of large pits left on RIMAC Field by a now-abandoned construction project. The RIMAC Living and Learning Complex, already dubbed "Tartarus College" by its residents, reportedly features a "post-post-postmodernist open-concept" dorming option consisting of no doors, rooms, or walls. 
The architect of the new complex, Jean Georges, reflected on his newest project, saying, "I have been pitching this design for the past decade. Georgetown said 'no,' Rhode Island School of Design said 'no,' and so did Swarthmore. Says a great deal about this institution that they gave me an emphatic 'yes!'" Both Swarthmore College and Georgetown University declined to comment when asked about Georges' remarks, but a representative for RISD shared a statement explaining the school's decision: "Students living in pits doesn't reflect the spirit of the Rhode Island School of Design. Abandoned mills? Sure, that's fine. But chasms are where we draw the line."
Students can access their residence through a slide and resurface by way of the new ski lift. "I don't love the fact that the floor is loose dirt or that we all literally live on top of one another," said first-year student Siobhan Roy, "but I'm not going to find anything better for $1,200 a month in La Jolla."
With the success of the new housing complex, UCSD has already announced plans for subterrestrial classrooms and a new root-centric dining hall, also called "Roots," but unaffiliated with the Roots dining option located in Muir College. Early reviews have been mixed, with one local food critic describing the food as "fresh and crunchy" and another remarking that, after eating there, "my teeth hurt so, so bad." As for the arts scene, the new belowground black box theater has already announced a production of Naked Mole Rat Gets Dressed: The Rock Experience in conjunction with the La Jolla Playhouse, which will open next month and run through February 2024. 
The RIMAC Living and Learning Complex will also debut four new required classes: Introduction to Soil (DIRT 101), Earthworm Ethnography (WRM 50), and Comparative Mining (MNE 125 and MNE 125L). When asked which class they were most looking forward to, third-year student Jeffrey Winger said, "Definitely MNE 125. I've been playing Minecraft for years, so I'm looking forward to finally putting those skills to good use."