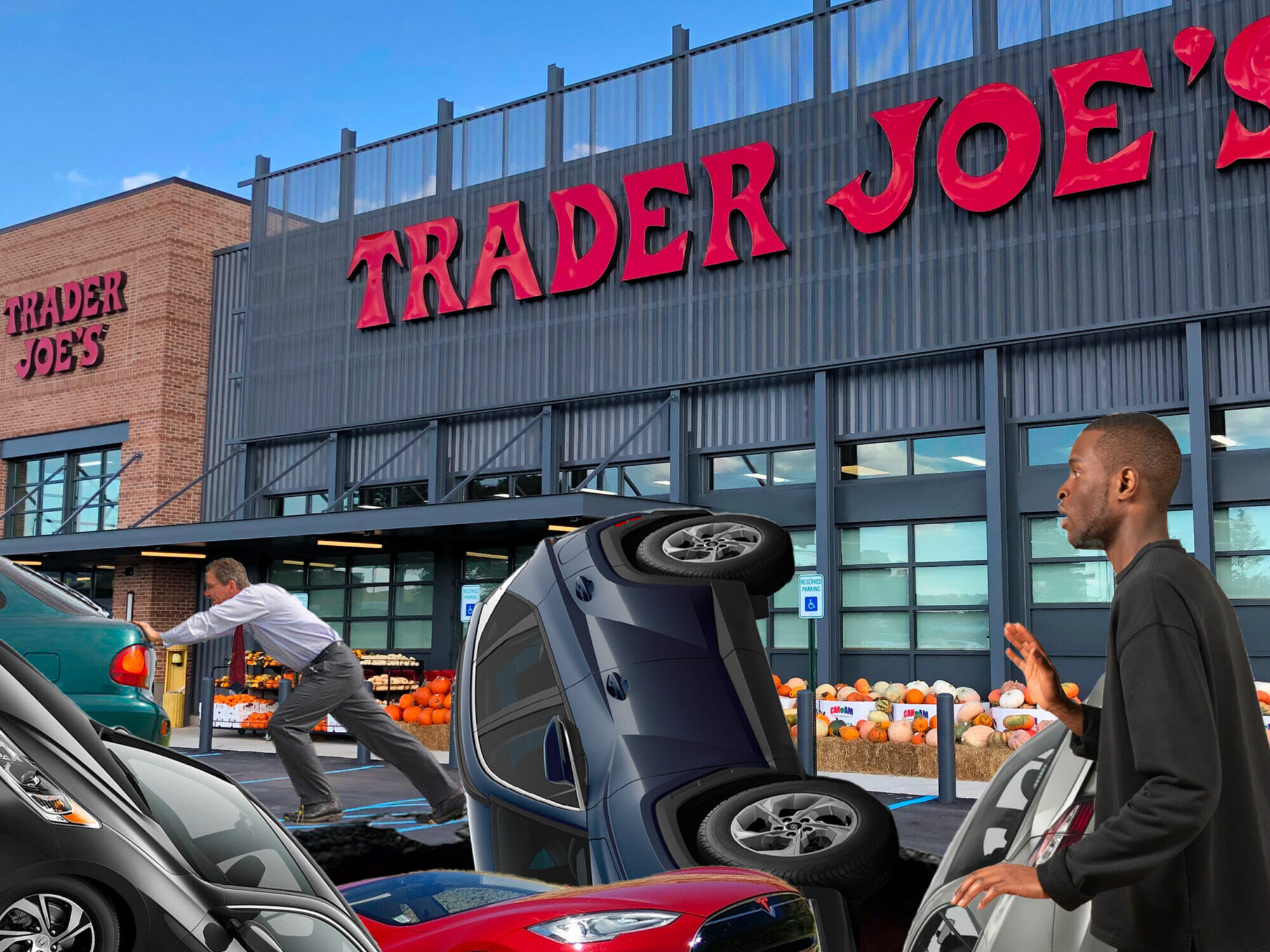 "I love the pit," said one Ralphs customer. "My 2005 Toyota Sienna went in, and a brand new Lamborghini came out."
Photo by Maria Dhilla
On Sunday, the new La Jolla Village Square Parking Pit was opened to the public after 13 months of construction. The Pit replaces the old parking lot, which served the busy shopping center including Ralphs, Trader Joe's, Chipotle, and many other retail outlets. The new structure iterates upon the old by expanding parking spots into three-dimensional space, allowing shoppers to park directly on top of and underneath other vehicles.
"The Pit is an intuitive way for everyone to store their car while they shop, dine, and relax at La Jolla Village Square," announced La Jolla Village Square Transportation Manager Bizi Roades during the unveiling of The Pit on Sunday. "Forget the hassle of finding an empty parking space and making the excruciating 30-foot trek to Starbucks. We have employed a new, innovative solution: simply drive your car directly into The Pit. Once your wallet is devoid of money and your stomach is full of corn syrup, you just take your car back out — it's that easy!"
Construction of The Pit began last year following numerous complaints about the old parking lot. At a La Jolla town council meeting last year, members voted to demolish the lot and replace it with The Pit. "It's time we get rid of this god-awful parking lot," said one council member. "All of those obtuse turns, narrow parking spaces, and gaggles of walking students are starting to get to me."
According to The Pit's lead engineer, Noah Morales, the new parking solution uses "incredibly advanced" artificial intelligence algorithms to aid in the retrieval of cars. "Safety was a top priority when designing The Pit, and as such, the system is completely automated to ensure precious human life isn't put into harm's way," stated Morales at the announcement. "When a shopper drives their car into The Pit, facial recognition algorithms authenticate them and a digital claim ticket is linked to their Facebook account. Once the shopper is ready to leave, our proprietary computer vision and artificial intelligence systems automatically locate their car. Then, a worker — who is paid minimum wage — pushes it out of The Pit and onto the road." When asked about potential difficulties in retrieving buried cars, Morales replied, "Well, the only reason that should happen is if you got here before everyone else — and if that's the case, you probably work here and shouldn't be leaving anyway. If not, then I would like to personally extend an invitation to join our team as a car-pusher."
However, construction of The Pit has been met with mixed reception as many La Jolla residents have taken issue with the aesthetics of The Pit. "This huge pile of cars is really messing up the view from my apartment," complained a resident of the nearby neighborhood. "I'm pretty sure The Pit has reduced my property's value by at least a couple million — which isn't that much — but still, come on," he complained, gesturing towards the shopping center. "I was hoping to rent this place out to a tech bro or a lawyer, but I guess I'll have to settle for a struggling double-income family or some students instead."
Additionally, many have questioned the accessibility of the shopping center to those without cars. "I'm really gonna miss going to Chipotle," said one UCSD student. "But I don't think I'd be able to scale the mountain of cars. Oh well." When asked how The Pit would affect pedestrian access to La Jolla Village Square, Roades replied, "Pedestrians? What the fuck are those?"