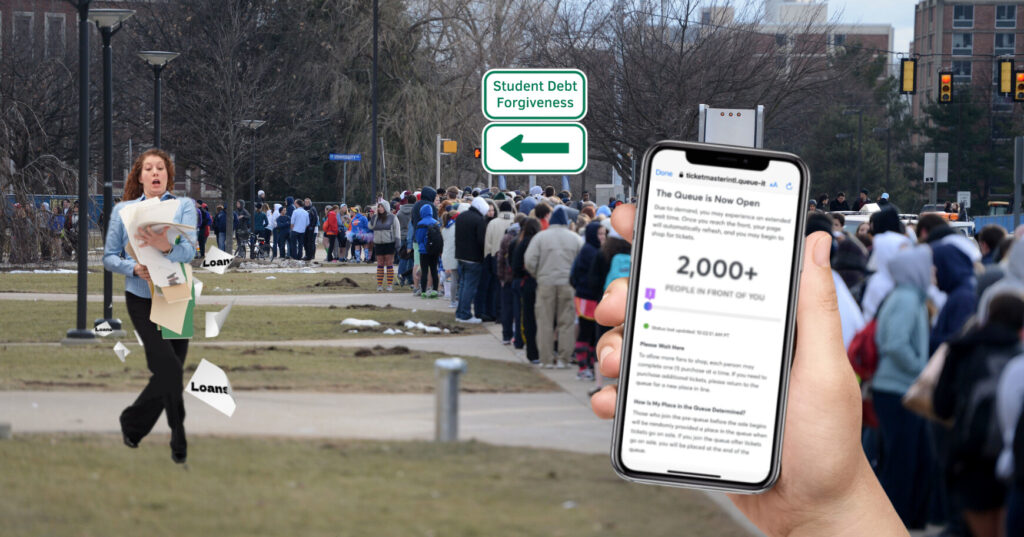 "2,000th in line? I know this pain all too well!" stated one fan.
Photo by Amit Roth
Last week, the U.S. Department of Education revealed that student loan debt relief would be unblocked, effective immediately. However, it was also unveiled that there was significantly less funding than initially promised, and not every college student with loans will be able to receive loan forgiveness. Therefore, to distribute relief in the "most fair way possible," funds will be released in a lottery system conducted by Ticketmaster Verified Fan Presale.
"The U.S. Department of Education was inspired to use the Verified Fan Presale system after seeing the undeniable success of Ticketmaster's collaboration with Taylor Swift for her Eras tour," said Department Chairman Harry Smencil. "There's nothing we find more inspiring than watching millions of people fight desperately for something they really want, but likely won't receive."
The Department of Education announced this plan via a series of cryptic Instagram stories that — after being put in reverse and played in the key of C# — recited the sequence of numbers "13 13 13." After some time, university students were able to decode what these numbers meant, revealing that in 13 days, at 13:00, 13,000 students with student loans would receive invitations to apply to be a "Verified Department of Education Fan."
Once word got out, ticketmaster.com was immediately overwhelmed by traffic from millions of debt-ridden students attempting to apply before the website eventually crashed and never returned.
In the days following the website crash, a random set of university students received notifications that they were not selected as Ticketmaster Verified Fans, along with bank statements informing them that they were given even more student debt. "That's not something Taylor Swift did — we just added that because we thought it'd be fun. And it was!" stated Smencil.
However, even the few who were selected as Ticketmaster Department of Education Verified Fans are not guaranteed debt relief. These selected fans must join the online Ticketmaster queue at 9:00 a.m. PST on February 13, 2023 to compete for the 13,000 available slots.
"But don't worry, we know 'All Too Well' how tough it is being a broke college student, so we've added two incredible options for students to increase their chances in receiving loan forgiveness," Smencil added. "If you were not selected for the Verified Fan Presale, 'Shake It Off!' You have another opportunity to join the queue via the special Capital One presale. And if you're already a Verified Department of Education Fan, you can buy just one 'No one makes my jimmy harder than Jimmy Carter' T-shirt to jump ahead in the queue by 200 spaces!"