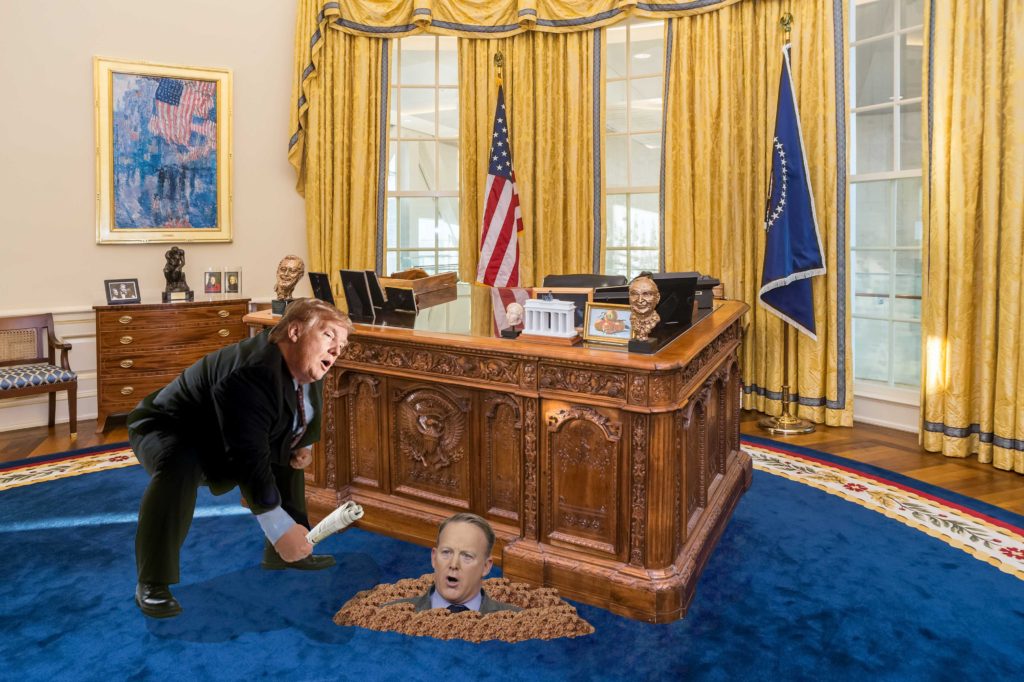 Panic struck the White House last week when it was discovered that Sean Spicer, the newly appointed Press Secretary of the Trump Administration, had gone missing. The Secret Service, reportedly fearing that Spicer's comments earlier in the week had sparked some form of vigilante justice, immediately organized an extensive manhunt, which ended when a gardener discovered a large hole near the southeast corner of the White House.

Upon further inspection, agents found a pair of suit pants underneath a nearby bush, and something an archaeologist later identified ominously as "Spicer tracks," previously only seen deep in the woods of Montana.
According to a statement released by the White House, it was unclear whether or not this mysterious hole had anything to do with Sean Spicer until Kellyanne Conway recognized the hole and stepped in to bring Spicer back herself.

Conway reportedly clapped her hands three times and yelled, "I have a bag of Ranch Corn Nuts," at which point a loud rumbling was heard and Spicer jumped out of the hole, dirty and pantless, yelling about Corn Nuts.

During the discovery, it was thought that this was simply just a hole. However, it was later confirmed that, in fact, it led to a large series of tunnels running underneath the entirety of the White House grounds. The tunnel, apparently referred to as the "Spicer Express" by the Press Secretary, has branches leading to both the East and West Wings, as well as the Executive Residence.

There are additional tunnels leading towards the Washington Monument, the Smithsonian, as well as one leading towards the nearby Wendy's. It is still not entirely clear why Spicer decided to dig a tunnel under the White House for nearly 72 hours, as the initial response from the Office of the Press Secretary was simply, "I like holes."

A press conference was held Monday morning to determine exactly what caused the appearance of the mysterious hole, why Spicer had apparently dug it, and why he only digs tunnels with his pants off. Spicer responded to every question by staring unblinkingly at the reporter who asked and eating an entire pack of unfiltered cigarettes by the fistful, before asking for more questions and repeating the process. Eyewitnesses report Spicer ate nearly 260 cigarettes in total.

"Look, I like holes," Spicer said eventually, upon further questioning. "I mean holes, not the movie 'Holes.' I like digging holes. I do not, nor have I ever dug 'Holes.' I don't think Shia LaBeouf is even that good of an actor, if I'm being honest with myself, although I did think he was good in 'Even Stevens.' Wait, don't report that. You guys aren't writing this down, are you? If any of you 'reporters' talk about this in the news I'll fucking kill you, and you can quote me on that. Wait, I mean, don't quote me on that. I mean, wait, do quote m—" before unsuccessfully attempting to dig into the floor of the Press Briefing Room.