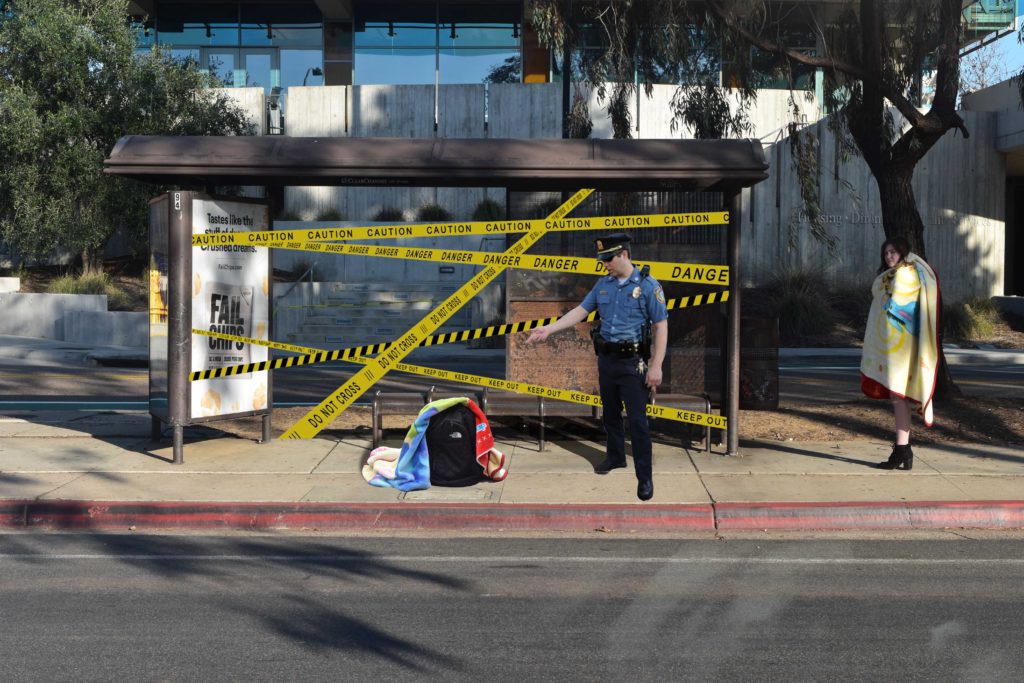 Intensely clutching a backpack to her chest, area student Angie Coronado seemed to be in a state of distress while telling reporters that last Friday that she was shocked to find her backpack sitting by itself with no one to watch over it. At approximately 9:30 a.m. at the bus stop on the corner of North Torrey Pines and La Jolla Shores, Coronado had asked a local man to keep an eye on her backpack while she used a nearby washroom. Upon returning to her seat, she found her belongings were seemingly untouched; however, the man she had asked to guard her backpack had fled the scene.

"I was astonished," said Coronado while scrunching a used tissue. "He didn't raise any red flags when I first asked him to watch my stuff. Never in a million years did I think he would completely disregard my intimate possessions in such a heartless way. It's one of those things that you always hear happens to other people, but you never expect it to happen to you. Like dropping your phone in the toilet by accident, or getting hit by a car, or finding out you bought an oatmeal raisin cookie from Pines instead of a chocolate chip cookie. To be perfectly honest, I feel violated."

Before Coronado could claim her belongings, the San Diego Bomb Squad was on site, after receiving a call from a concerned bystander about an unattended backpack. News sources have reported that the contents found within the backpack include a laptop, an organic chemistry textbook, three bottles of nail polish remover, a bag of ice, and a canteen filled with bleach. Coronado confirmed that nothing was taken from the backpack, which was returned to Coronado after officials failed to detect any hazardous substances within the bag.

A police report states that after being asked by Coronado to watch her stuff, the area man had nodded in agreement. Although the cause of this blatant disrespect remains unsolved, some witnesses told reporters that the man was wearing bulky headphones during the accordance, and may have just been nodding to the music, completely oblivious to Coronado's request. At this time, the rumor has not been confirmed by Coronado or the authorities.

Witnesses told reporters that the man who was allegedly supposed to watch Coronado's bag had caught the 201 bus roughly 20 minutes after Coronado had left the area. One witness who asked to remain anonymous said, "I saw him stepping onto a bus and he didn't even look over at her backpack. It felt like a dream, like it was totally surreal. It will be a story I tell to my children and grandchildren."

The anonymous witness has reported to authorities that she has reason to believe that the man at large is a sociopath.

"I would bet my soul that the man is a sociopath," the witness told reporters. "I'm not a doctor or anything — I work at Jamba Juice. But after six months of making Strawberries Wild and Mango-a-Go-Gos for deranged health-nuts, I can confidently say that this man is a sociopath."

Police are searching for the culprit, who has been reported by witnesses as a 5-foot-8-inch male with brown eyes and dark brown hair. Anyone with information on the whereabouts of this man should contact authorities immediately. Civilians are warned to not approach this man, who has been described as "dangerously negligent of people's stuff."
Sage Cristal is the woman of your dreams. She sings, she dances, and has a WWE Championship Replica Title Belt. She is currently training to be the next American Ninja Warrior.