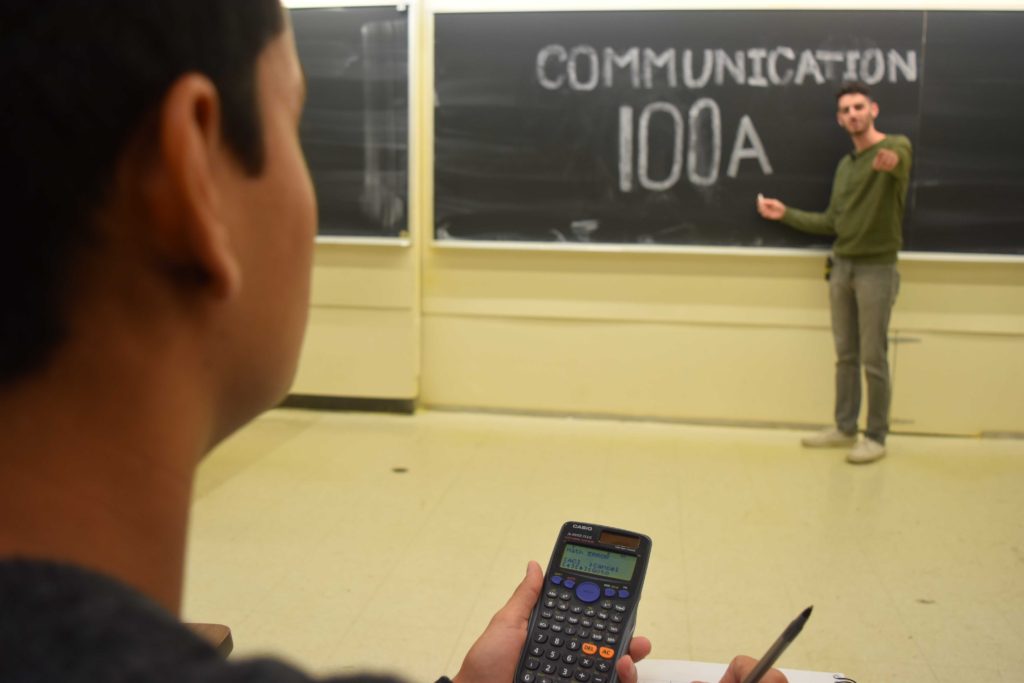 Two weeks ago, formerly undeclared sophomore Jared Johnston "finally gave into both [his] father's and UCSD's wishes" and declared a major, choosing to pursue a B.A. in Miscommunications.

Johnston, who has reportedly faced great criticism from his father over the last two years, stated that "I didn't want to get kicked out of school and have to work at my dad's company, so I finally chose a major after I found out a miscommunications major is a real thing." He went on to list "all the benefits" of declaring a major in Miscommunications, "especially only needing to take total of three, or maybe it was 16, upper division classes to graduate. The department wasn't really clear on that, I think we had a misunderstanding."
Even Johnston's roommate Stephen Erving was "happy," commenting that Johnston finally found something he was good at.

"Miscommunication comes naturally to Jared," said Erving. "From a seemingly offensive comment about someone's 'nerdy International Space Station shirt' that was truly intended to be a compliment, to accidentally agreeing to listen to someone's mixtape, Jared's talent shines everywhere."

"All my life I've always felt the effects of miscommunications," Johnston said, agreeing with his roommate. "I was just never able to put a name on it. I can thank my father and our rocky relationship for sowing the seeds, his failed efforts to teach me about good communication for cultivating the soil, and my own incompetence for harvesting the crop."

"What crop?" he continued "Oh, uh, the corn of … miscommunication. MisCORNmunication? I knew I shouldn't have tried to use this metaphor, I never get the point across."

"Jared's choice couldn't have been made at a better time," Loretta Jenkins, the academic advisor for the miscommunications major, commented. "One hundred percent of Miscommunications Departments across the nation are not impacted, which is crazy to believe, just statistically speaking. Unless I misread that report, I guess." According to Jenkins, despite the difficulty of conveying what the field of miscommunications is and what it can be used for, the job market for miscommunications is strong.

"With miscommunications expected to organically grow 273 percent within the next seven years, you would be foolish not to declare miscommunications."

According to experts, many people who major in miscommunications find jobs in a variety of fields, especially public image or media, where communications majors were originally concentrated. From campaign managers to hairstylists, the applications of miscommunications are "endless."

"Typically," commented hairstylist Jordan Banks, "I ask the customer what they want. I usually get responses along the lines, 'cut half an inch, nothing more'. I then cut their hair exactly the way they wanted, leaving only half an inch of hair."

Johnston plans on interning at his father's company this summer as a social media trainee and personal assistant to the CEO, his father.

"Since an internship isn't a real job," Johnston noted, "I can be involved with my dad without having to work for him like I said I never would!" Johnston's parents are reportedly excited that their son, emboldened by his future economic prospects as a miscommunications major, will be moving out of their house to go live with his boss instead.

"I will no longer be living with my parents," Johnston said. "Instead I will be living with my boss, the CEO. Being an assistant to the CEO means I might be needed at any time of the day." Experts predict that miscommunications will "happily abound" in Johnston's personal, academic, and career life with these changes.
Written by: Nicholas Martin, staff writer