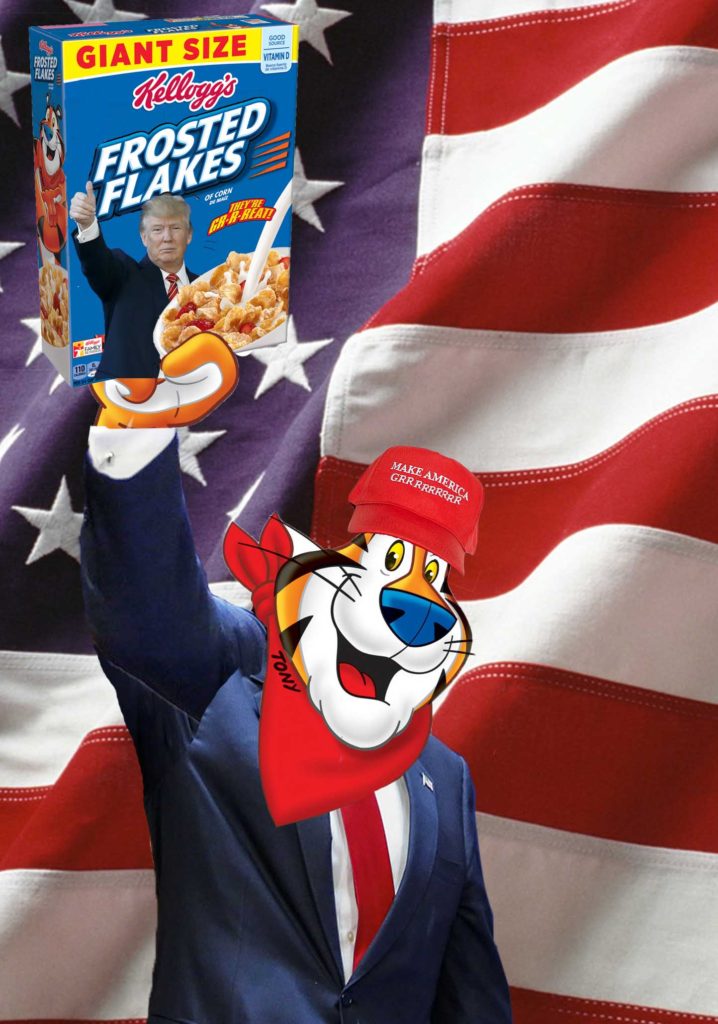 The formal resignation of former Trump Campaign Manager Kellyanne Conway early last week came as a surprise to Donald J. Trump for President, Inc. and the media at large. Conway left the campaign for undisclosed reasons and refused to comment on the situation, although speculation has arisen regarding her stamina and ability to finish the campaign. She did say that her replacement is great and wins a lot, however, and assured the press that Trump's campaign was in "grrrreat hands."

Donald J. Trump for President, Inc. commented saying that, while Conway will be missed, a suitable replacement has been found. Trump then went on to further say that a great deal of attention has been put into the process of choosing a manager who would be fit to run the campaign for the remainder of election season. Of the many criteria used, particular attention was placed in the hair color, breed, stamina, popularity, and nutritional value of Mr. Trump's new campaign manager, former Kellogg's Frosted Flakes mascot, Tony the Tiger.

Tony the Tiger released a statement regarding his appointment to campaign manager, stating simply, "They're grrrreat." It is still unclear as to whom he was referring, but it is believed that the comments were made in regard to Mr. Trump and his campaign. The specific logic behind the decision is said to have been made in order to gain popularity with young crowds, as well as save money on catering during campaign events by supplying them entirely with Frosted Flakes. The attention of the youth will prove to be vital for those key swing states which hold the fate of the election.

To celebrate Tony's promotion from cereal mascot to Campaign Manager, Trump's new campaign organized a charity baseball event to show the nation that he can appeal to the youth of today. In a press release, Trump's campaign stated that, "naturally, a bright orange tiger wielding a bat is fit to play baseball, and Tony intends to show them that. His natural ability to win at a rehearsed game on television draws all the attention from swingers in all those swing states."

Questions have arisen as to whether a massive orange animal should be permitted to assume such an important role, to which Trump officially responded, "This is the system trying to keep me out and the public should be outraged," to which Tony's official response was simply "Don't talk about Mr. Trump in that manner."

Despite the change being made late in the race, the Donald J. Trump For President, Inc. would just like to proceed without any further incidents and minimal child mauling. They state that "we're not saying that we WILL pump Tony up with enough steroids to kill a horse and then set him loose near polling booths in counties we're losing in, just that we CAN. Just, you know. Keep that in mind."
Written by: Nicholas Martin, staff writer