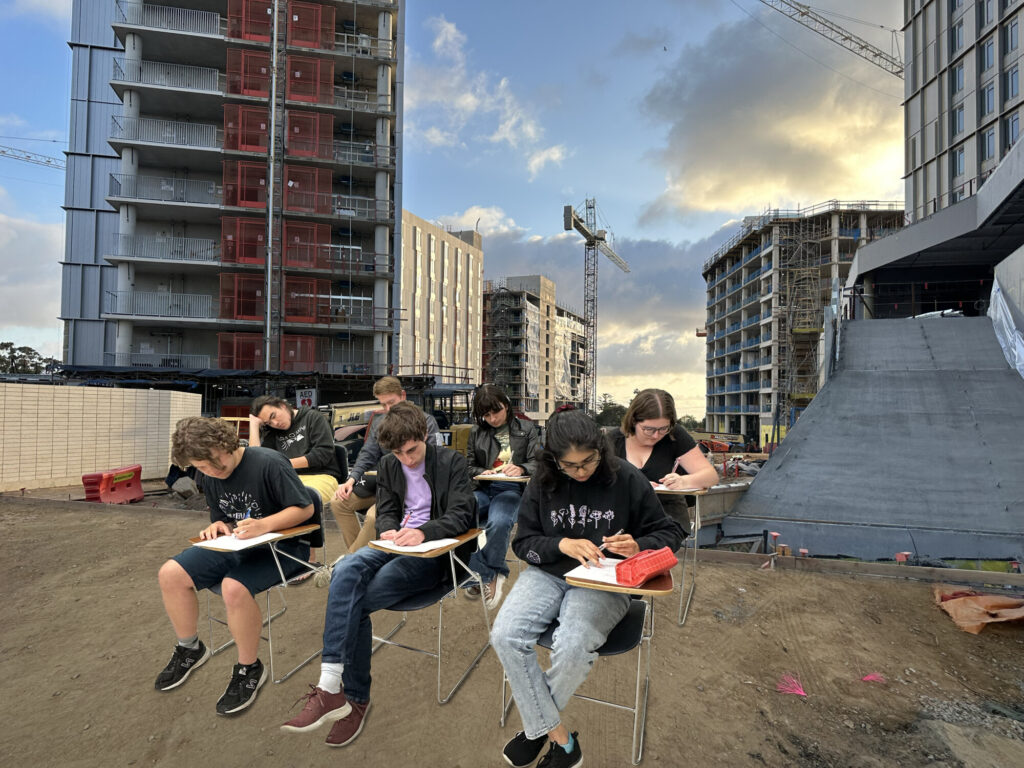 "I heard this was a really easy class," said one Eighth College student, "but the hats are so hard."
Photo by Sharon Roth and Connor Betterly
In an effort to meet the Spring 2024 construction deadline, UC San Diego will require incoming Eighth College students to enroll in at least one construction course in Fall 2023. Available courses will include MAKE 1: Introduction to Concrete Mixing, MAKE 30: Hard Hats and Harnesses, and MAKE 100: Forklift Certification. Eighth College students enrolled in one of these courses will be able to waive a portion of their first quarter tuition as long as they sign a Release and Waiver of Liability Agreement, which will serve as their first quiz.
In order to give students as much hands-on experience as possible, all courses will be conducted on location at UCSD's various construction sites, where students will work one-on-one with professional construction workers. "This pioneering new course format is part of our goal to take learning beyond the classroom and has nothing to do with the fact that we are running out of lecture halls," stated Chancellor Khosla. The rest of his speech was "unfortunately" lost among the noise of nearby construction.
When asked about the new GE requirement, multiple students expressed excitement. "I really admired Bob the Builder growing up. It'll be a childhood dream come true to make buildings like he did," said incoming first-year student Robert Lowes. "When UCSD asks if we can build it, I'll say, 'Yes we can!'" Another student looked forward to the communication opportunities. "I'm real tired of being heckled by these dudes on my walk to class, but now I get to be the heckler!" said student Cat Cinderblock. "All I need to do is get my hands on some OSHA-approved crop tops and flip-flops."
A professor for the program, Hardwell Hatson, had some reservations about the new courses due to the safety risks combined with adjuncts' lack of health benefits, but is "just glad to secure more teaching units." In a statement, he said: "I'm not too concerned about a classroom covered in dust with open walls. It's like Center Hall — but with sunlight!"
In addition to the new classes, UCSD will be establishing an ad hoc department to run the program. The Dean of Undergraduate Education said they would be providing free Triton-themed hard hats, reflective vests, and steel-toed boots to any faculty who volunteer to lead and staff the department. When asked where the new department would be located, the dean responded, "We're not sure yet. We can't quite decide which parking lot to build it over."