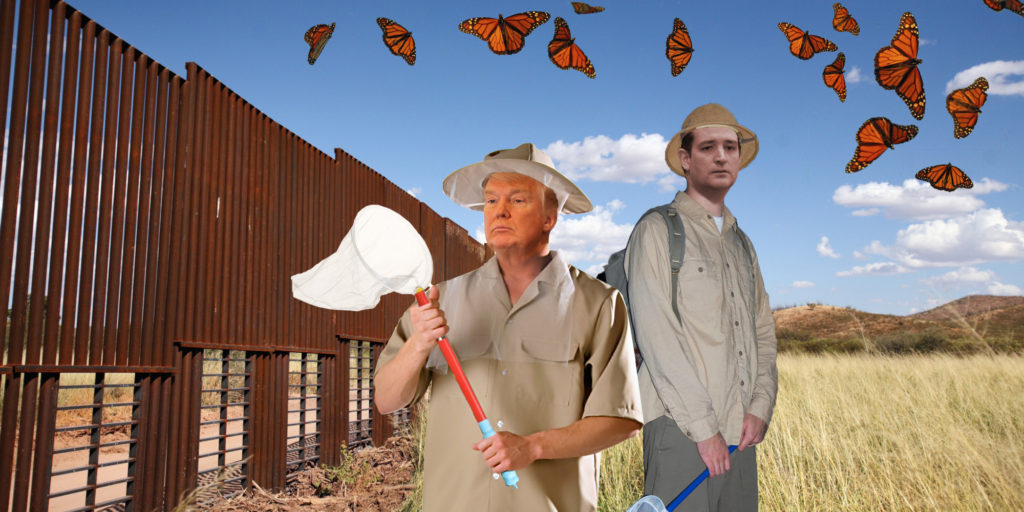 The presidential campaign took yet another interesting turn late last month, as a far-right political party called for a press conference to demand a stop to the annual migration of monarch butterflies. The monarchs are making the journey north from Mexico to the United States throughout March and are expected to reach Texas and California by the beginning of April.

The American Nazi Party, a supporter of stopping migration, issued a statement saying, "America has an estimated 20 MILLION burnt orange, filthy ILLEGAL MONARCH BUTTERFLIES who are INVADING OUR NATION, and this evil Arthropod-sympathetic, capitalist system will eventually grant 'free and unregulated passage' to these foreigners." Additionally, the American Nazi Party issued an original piece of art "in honor of the non-human sympathizers of the anti-monarch cause." The painting depicts monarch butterflies with wing patterns resembling swastikas.

GOP presidential frontrunner Donald Trump weighed in on the position, claiming that "when the monarchs send their butterflies, they're not sending their best." He then cited a study that reported "50 percent of the time, monarch butterflies are poisonous 100 percent of the time." Trump offered no comment on how he was going to stop the large migration of a group of harmless flying insects all the way across the U.S. while also taking America out of debt; however, he did flap his arms in a manner meant to resemble a butterfly's wings.

Monarch butterfly expert Dr. Lana Espiritu expressed disgust at the anti-monarch rhetoric. "They're actually only poisonous if you're a bird. And it's not the kind of poisonous that kills the bird. It's the kind of poisonous that leaves a bad taste in the bird's mouth. The closest comparison is the feeling you get whenever you hear Donald Trump say words." Dr. Espiritu continued, "Of course, I understand why Mr. Trump would be concerned about birds, considering the top of his head is a nest."

Director of the far-right organization, Americans for Freedom Now as Long as It's a Very White Freedom, Kevin Lambert, is concerned that the issue of the "most likely bazillions" of undocumented monarch butterflies currently in the U.S. is being ignored. "What are we going to do with the ones that are already here? They're taking American pollination jobs!

"The only thing that makes me feel safe anymore is the comforting knowledge that the Border Patrol can conduct warrantless searches and seizures within 100 miles of all external borders. It's the only way to make sure these monarchs aren't smuggling foreign pollen!" Lambert neglected to respond to studies that found that "the demand for entry-level workers is not matched by domestic supply, leading to an increase in the demand for monarch labor" and that "pollinating flowers isn't an actual job anyway."

Butterfly activists, including Dr. Espiritu, fear for the safety of monarch butterflies amid this heated political climate. "There are butterflies out there who are in danger because they look like monarchs. Most people don't stop to check before they make decisions based on appearance, unless they're I.C.E., who make sure that they only apprehend butterflies that look suspicious."